Cascahuin Blanco Tequila
Out of Stock

(was $53.99)
Distiller Notes
Cascahuin Blanco is characterized by a touch of minerality, a characteristic pertaining to El Arenal, Jalisco. The dominant aromas and natural flavors of cooked agave are reminiscent of the brick ovens that allow the agave to hold on to the fresh citrus sensations.
Proof: 80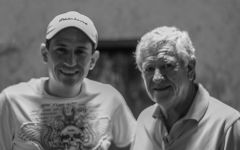 Tequila Cascahuin is produced in its namesake distillery in El Arenal, Jalisco, MX, in the lowlands of Jalisco. Distileria Cascahuin, a family establishment, is also home to Siembra Valles tequila.
Master Distiller Salvador Rosales Torres' traditions of distilling go back as far as 1904. This also happens to be the year the Mexican government started to regulate and register distilleries. The distillery, Cascahuin, directly translates to "Mountain of Light." and borrows its name from the nearby mountain in El Arenal known for attracting lightning. 
Since that first sip of tequila from Distileria Cascahuin, David Suro has been on a quest to connect the history of agave to a brighter future for Mexico and its people. With this partnership, Cascahuin and Siembra Spirits look forward to challenging the consumer with the level of transparency and technical data that Siembra Valles is providing.
Tequila Blanco, or 'white Tequila', is also known as Tequila Plata, or 'silver Tequila'. Its clear color is the result of being bottled immediately after distillation instead of being aged in oak barrels like Tequila Reposado or Anejo. Because of their youth and lack of barrel influence, Blanco Tequilas are thought to offer the purest expression of blue agave available, with notes of citrus and pepper. However, they can also be quite forceful and energetic on the palate without the moderating influence of time and wood.
HNYSAVCNPNVC_0
Item#
528737