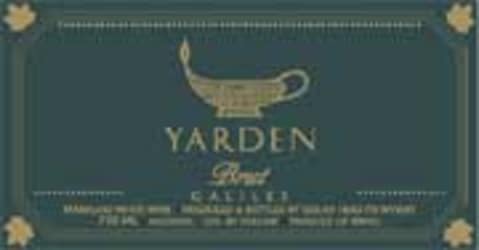 Yarden Brut (OU Kosher)
Ships Mon, Nov 18
Limit
0
bottles
per customer
Winemaker Notes
Made strictly by the Champagne method; blend of Chardonnay and Pinot Noir; toasty from two years with tirage yeast.
The premier label and flagship brand of Golan Heights Winery. Each year the finest grapes from the best vineyards are reserved for Yarden wines. Yarden is the Hebrew for Jordan River, which bisects the Golan Heights from the Galilee. The label features a symbol of ancient Israel: an oil lamp decorated with mosaic tile.
With a rich history of wine production dating back to biblical times, Israel is a part of the cradle of wine civilization. Here, wine was commonly used for religious ceremonies as well as for general consumption. During Roman times, it was a popular export, but during Islamic rule around 1300, production was virtually extinguished. The modern era of Israeli winemaking began in the late 19th century with help from Bordeaux's Rothschild family. Accordingly, most grapes grown in Israel today are made from native French varieties. Indigenous varieties are all but extinct, though oenologists have made recent attempts to rediscover ancient varieties such as Marawi for commercial wine production.
In Israel's Mediterranean climate, humidity and drought can be problematic, concentrating much of the country's grape growing in the north near Galilee, Samaria near the coast and at higher elevations in the east. The most successful red varieties are Cabernet Sauvignon, Merlot, and Syrah, while the best whites are made from Chardonnay and Sauvignon Blanc. Many, though by no means all, Israeli wines are certified Kosher.
A term typically reserved for Champagne and Sparkling Wines, non-vintage or simply "NV" on a label indicates a blend of finished wines from different vintages (years of harvest). To make non-vintage Champagne, typically the current year's harvest (in other words, the current vintage) forms the base of the blend. Finished wines from previous years, called "vins de reserve" are blended in at approximately 10-50% of the total volume in order to achieve the flavor, complexity, body and acidity for the desired house style. A tiny proportion of Champagnes are made from a single vintage.
There are also some very large production still wines that may not claim one particular vintage. This would be at the discretion of the winemaker's goals for character of the final wine.