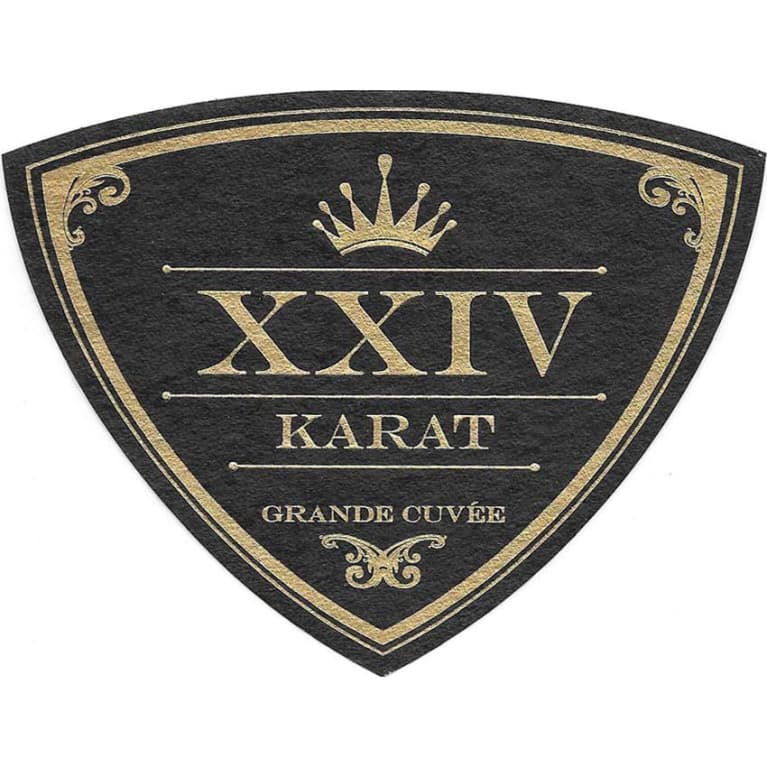 XXIV Karat Wines Grand Cuvee
Ships Sat, Apr 4
Limit
0
bottles
per customer
Winemaker Notes
The nose is fresh and clean with attractive scents of pear and pineapple nuances that leap out of this sparkler with lively flavors of crisp, green apple and blanched almonds.
The golden flakes in each bottle of XXIV Karat are verified 24 karats of real gold. Certified for use as a food decoration, the edible gold is considered biologically inert, making XXIV Karat a safe option for flashy fun and memorable moments, solidifying its place as the indulgent lifestyle beverage.
A switch at the bottom of the bottle, when depressed, will turn on a flashing light, further illuminating the wine and gold flakes.
XXIV Karat Wines is committed to bringing excitement and memories with each bottle sold. Founded by Arizona State University alumni, the team embodies the soul of what XXIV Karat brings to the social scene. After countless bottles bought and numerous memories made, the boys of XXIV Karat sat down to develop what would turn out to be the hottest new product to hit the industry. They live life all in, and have branded a product that focuses on just that. Starting off as just a dream, XXIV Karat has evolved into a brand that is both affordable and exclusive, providing memorable experiences to all those who enjoy it's flavor. Whether it be in the hottest nightclubs in the world, poolside at your favorite resort, or a gift for your best friends wedding, each bottle of XXIV Karat champagne with gold flakes is designed with one thing in mind, fun!
California enjoys a long history and proven reputation as an admirable source of sparkling wines. Agoston Haraszthy, who established Buena Vista Winery in the mid 1850s, first attempted to make traditional method sparkling wine in California in the 1870s. Shortly thereafter Korbel followed, and with great success. Today domestic producers such as Schramsberg, Iron Horse and J. Wine Co remain at the forefront of the market.
Since the 1970s the state has consistently attracted the attention and investment of large and respected European and French-based firms who are responsible for Domaine Chandon, Mumm-Napa Valley, Roederer Estate and Domaine Carneros (Taittinger), to name a few. Anderson Valley and Carneros remain standout regions for top quality Pinot noir and Chardonnay for these.