Weingut Dautel Wurttemberg Weissburgunder 2017
Winemaker Notes
This wine exudes a fruity bouquet of pineapple and nectarine. The palate bursts with flavors of citus fruits and pineapple. Elegant, smooth acidity on the finish.
Critical Acclaim
All Vintages
COMMENTARY: The 2017 Dautel Weissburgunder makes me re-think my opinion of Pinot Blanc! While I have enjoyed outstanding examples from Burgundy, Alsace, and California, I had not thought about Germany. TASTING NOTES: This wine offers lovely aromas and flavors of ripe apple, peach skin, and a note of minerality. Serve it with slivers of organic roast chicken in a mix of garden-fresh lettuces. (Tasted: October 18, 2021, San Francisco, CA)
View More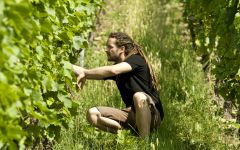 Ernst Dautel, Christian's father, was the first generation in his family to attend winemaking school in Geisenheim in the 1970s. When he returned home he decided to stop working with the coop, though his father was one of the founding members of the coop in Meimsheim. Ernst didn't want to "throw his fruit in with all the rest and get some bad quality wine out of it." Ernst is an iconoclast and one of the first producers in the Württemberg to estate bottle wines. His wife Hannalore was from Bönnigheim, where the winery is located now and; they were married in the late 1970s. Their eldest son, Christian, was exposed to wine at a very young age, recounting picnics in the vineyards and family vacations that always included visits to great estates.
Ernst became well known, in part for challenging the status quo in the region but also for making excellent wines, though they were not always regionally accepted. He joined the VDP in 1999 and the estate remains one of the very best in Württemberg, now under the guidance of Christian, who returned home in 2010.
Christian is a thoughtful winemaker repeating the refrain we always hear from quality minded growers – "the wines are made in the vineyards". Like other top winemakers from his generationm taking over successful wineries from their parents, he has a huge amount of respect for what his father accomplished and sees no need to tear down the work that has been done by making abrupt changes.
Christian's goal is to continue to bring out the specific character of each terroirs without losing the inherent flavor of the grape variety planted to each vineyard. Wines are not made by formula, but by taking in to account the feeling for each site and variety. These are singular wines, unlike anything we've come across in Germany.
As the world's northernmost fine wine producing region, Germany faces some of the most extreme climatic and topographic challenges in viticulture. But fortunately this country's star variety, Riesling, is cold-hardy enough to survive freezing winters, and has enough natural acidity to create balance, even in wines with the highest levels of residual sugar. Riesling responds splendidly to Germany's variable terroir, allowing the country to build its reputation upon fine wines at all points of the sweet to dry spectrum, many of which can age for decades.
Classified by ripeness at harvest, Riesling can be picked early for dry wines or as late as January following the harvest for lusciously sweet wines. There are six levels in Germany's ripeness classification, ordered from driest to sweetest: Kabinett, Spätlese, Auslese, Beerenauslese, Trockenbeerenauslese and Eiswein (ice wine). While these classifications don't exactly match the sweetness levels of the finished wines, the Kabinett category will include the drier versions and anything above Auslese will have noticeable—if not noteworthy—sweetness. Eiswein is always remarkably sweet.
Other important white varieties include Müller-Thurgau as well as Grauburguner (Pinot Gris) and Weissburguner (Pinot Blanc). The red, Spätburgunder (Pinot Noir), grown in warmer pockets of the country can be both elegant and structured.
As the fourth largest wine producer in Europe (after France, Italy and Spain), in contrast to its more Mediterranean neighbors, Germany produces about as much as it consumes—and is also the largest importer of wine in the E.U.
Approachable, aromatic and pleasantly plush on the palate, Pinot Blanc is a white grape variety most associated with the Alsace region of France. Although its heritage is Burgundian, today it is rarely found there and instead thrives throughout central Europe, namely Germany and Austria, where it is known as Weissburgunder and Alto Adige where it is called Pinot Bianco. Interestingly, Pinot Blanc was born out of a mutation of the pink-skinned Pinot Gris. Somm Secret—Chardonnay fans looking to try something new would benefit from giving Pinot Blanc a try.
PIO41313_2017
Item#
534604