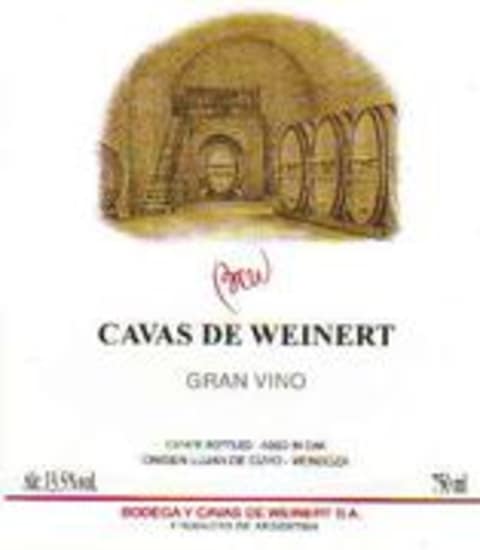 Weinert Cavas de Weinert 1996
Out of Stock

(was $19.49)
Winemaker Notes
This wine represents the philosophy of "Bodega y Cavas de Weinert".
Made from strictly selected Cabernet-Sauvignon, Malbec and Merlot grapes and aged for 4 years in French oak casks.
A wine of great character and personality with a perfect balance between dark and intense colour, complex aromas and a full body. Its good structure and smoothness build up to a long and pleasant final.
Alcohol: 13.5% by volume
Founded in 1975, Bodega y Cavas de Weinert is located in Lujan de Cuyo, Argentina´s craddle for top quality wines. The original building of 1890 of spanish colonial architecture, reminiscent of an old winery owned by the family Otero until 1920, catches the eye by its beauty, inviting those who pass by to know what it guards in its inside.
Don Bernardo C. Weinert, founder and owner, could be defined as an entrepreneur. Born in a small german colony in Southern Brazil, he built his name around international transport in South America. Fascinated by the world of wine, he decided to found his own winery in Argentina with one unconditional philosophy: producing high quality wines.
Before engaging in such a treat, he made an extensive study about Mendoza: its climate, soil, grapes; and came to the conclusion that Lujan de Cuyo was the perfect place for his project. After a thorough restauration work of the building acquired in 1975, he brought in the latest technology in vinification of that time and was joined by acclaimed oenologists. By then everyone believed him to be insane for facing such a treat. But time proved him to be right. After the first commercial vintage of 1976, by 1977 he produced Weinert Malbec Star 1977, a wine known and acclaimed by the world´s most prestigious tasters.
Don Bernardo C. Weinert is a man whose vision for businesses is very simple: "as long as you mantain your own philosophy and keep it throughout the years, you are on the right track."
LAU3404627_1996
Item#
29187