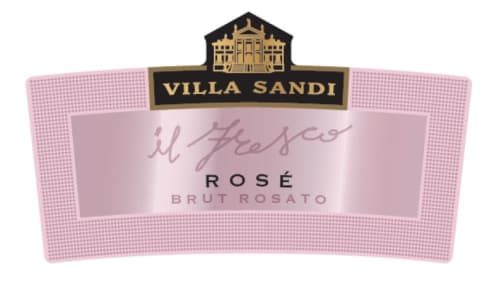 Villa Sandi Il Fresco Rose
Out of Stock

(was $11.99)
Winemaker Notes
Aromas of fresh berries and a hint of spice lead to a palate of crisp acidity and a creamy mouthfeel. This delightful sparkler is dry, fresh and zesty.
Blend: 90% Glera, 10% Pinot Noir
Critical Acclaim
All Vintages
A small percentage of pinot noir adds color and flavor to this rosé based on glera, the main grape of prosecco. The blend produces a round, fresh sparkler, yielding flavors of nuts and nectarines, the fruit sweetness completely cleaned up by acidity and bubbles. Chill it as an aperitif.
View More
Giancarlo Moretti Polegato's esteemed Villa Sandi is headquartered in a majestic 1622 Palladian-style villa in the heart of the Prosecco region. The Villa represents the confluence of art and architecture that has manifested itself in the Venetian landscape for many centuries.
Benefiting from land suitable for growing both white and red varietals, Villa Sandi produces and offers wines for every occasion, from the everyday approachability of the Prosecco D.O.C. to the Valdobbiadene Prosecco Superiore D.O.C.G. to the special Cartizze, a cru made in the heart of the most prestigious Valdobbiadene Prosecco area. Villa Sandi has also added a still white to their portfolio with the addition of Pinot Grigio. Parts of the estate suitable for red grapes produce a small volume of Pinot Noir that colors the Il Fresco Rosé.
Producing every style of wine and with great success, the Veneto is one of the most multi-faceted wine regions of Italy.
Veneto's appellation called Valpolicella (meaning "valley of cellars" in Italian) is a series of north to south valleys and is the source of the region's best red wine with the same name. Valpolicella—the wine—is juicy, spicy, tart and packed full of red cherry flavors. Corvina makes up the backbone of the blend with Rondinella, Molinara, Croatina and others playing supporting roles. Amarone, a dry red, and Recioto, a sweet wine, follow the same blending patterns but are made from grapes left to dry for a few months before pressing. The drying process results in intense, full-bodied, heady and often, quite cerebral wines.
Soave, based on the indigenous Garganega grape, is the famous white here—made ultra popular in the 1970s at a time when quantity was more important than quality. Today one can find great values on whites from Soave, making it a perfect choice as an everyday sipper! But the more recent local, increased focus on low yields and high quality winemaking in the original Soave zone, now called Soave Classico, gives the real gems of the area. A fine Soave Classico will exhibit a round palate full of flavors such as ripe pear, yellow peach, melon or orange zest and have smoky and floral aromas and a sapid, fresh, mineral-driven finish.
Much of Italy's Pinot grigio hails from the Veneto, where the crisp and refreshing style is easy to maintain; the ultra-popular sparkling wine, Prosecco, comes from here as well.
What are the different types of sparkling rosé wine?
Rosé sparkling wines like Champagne, Prosecco, Cava, and others make a fun and festive alternative to regular bubbles—but don't snub these as not as important as their clear counterparts. Rosé Champagnes (i.e., those coming from the Champagne region of France) are made in the same basic way as regular Champagne, from the same grapes and the same region. Most other regions where sparkling wine is produced, and where red grape varieties also grow, also make a rosé version.
How is sparkling rosé wine made?
There are two main methods to make rosé sparkling wine. Typically, either white wine is blended with red wine to make a rosé base wine, or only red grapes are used but spend a short period of time on their skins (maceration) to make rosé colored juice before pressing and fermentation. In either case the base wine goes through a second fermentation (the one that makes the bubbles) through any of the various sparkling wine making methods.
What gives rosé Champagne and sparkling wine their color and bubbles?
The bubbles in sparkling wine are formed when the base wine undergoes a secondary fermentation, which traps carbon dioxide inside the bottle or fermentation vessel. During this stage, the yeast cells can absorb some of the wine's color but for the most part, the pink hue remains.
How do you serve rosé sparkling wine?
Treat rosé sparkling wine as you would treat any Champagne, Prosecco, Cava, and other sparkling wine of comparable quality. For storing in any long-term sense, these should be kept at cellar temperature, about 55F. For serving, cool to about 40F to 50F. As for drinking, the best glasses have a stem and a flute or tulip shape to allow the bead (bubbles) and beautiful rosé hue to show.
How long do rosé Champagne and sparkling wine last?
Most rosé versions of Prosecco, Champagne, Cava or others around the "$20 and under" price point are intended for early consumption. Those made using the traditional method with extended cellar time before release (e.g., Champagne or Crémant) can typically improve with age. If you are unsure, definitely consult a wine professional for guidance.