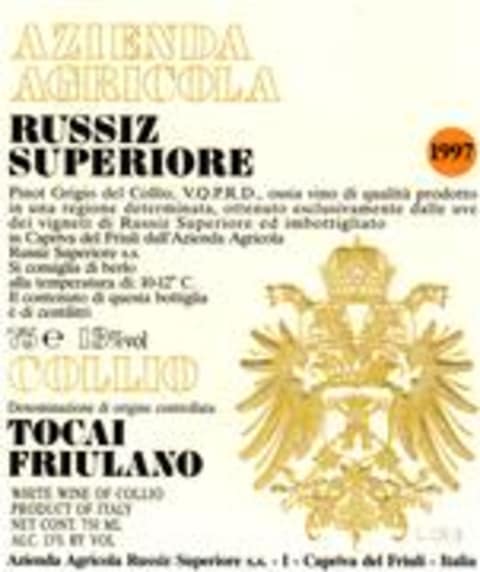 Villa Russiz Tocai Friulano 1996
Friulano
from
Friuli-Venezia Giulia, Italy
Ships Sat, Dec 22
Limit
0
bottles
per customer
Add to Cart
Limit Reached
Winemaker Notes
Straw yellow with greenish reflections. A delicate and pleasant bouquet, reminiscent of field flowers and more distinctly of almond.
The story begins in 1869, when French count Théodore de La Tour married an Austrian countess (Collio was then part of Austria), purchased this estate, and planted, for the first time in the area, authentic French rootstock.
Times and frontiers changed: after the First World War, Austria relinquished the region to victorious Italy, and the widowed Austrian comtesse donated the estate to the Italian government, returning to native Vienna.
Her generous gift was employed as an orphanage, and even today, the Villa Russiz orphans substantially benefit from the profits of Villa Russiz wines. In recent years, critical attention to these extraordinary Friulian varietals has snowballed to top-score proportions (like the coveted "Three Glasses" in the famous Gambero Rosso guide to top Italian producers). The quality is absolutely stunning: structure, richness, complexity, texture, elegance and balance; superlatives are de rigueur when tasting any of the winery's exquisite products.
Such fabulous results are due in part to this terroir's incredible quality; in part to the outstanding work and severe standards of the Villa Russiz technical manager: Gianni Menotti.
The source of some of Italy's best and most distinctive white wines, Friuli-Venezia Giulia is where Italian, Germanic and Slavic cultures converge. The styles of wines produced in this region of Italy's far north-east reflect this merging of cultures. Often shortened to just "Friuli," the area is divided into many distinct subzones, including Friuli Grave, Colli Orientali del Friuli, Collio Goriziano and Carso. The flat valley of Friuli Grave is responsible for a large proportion of the region's wine production, particularly the approachable Pinot grigio and the popular Prosecco. The best vineyard locations are often on hillsides, as in Colli Orientali del Friuli or Collio. In general, Friuli boasts an ideal climate for viticulture, with warm sunny days and chilly nights, which allow grapes to ripen slowly and evenly.
In Colli Orientali, the specialty is crisp, flavorful white wine made from indigenous varieities like Friulano (formerly known as Tocai Friulano), Ribolla gialla and Malvasia Istriana.
Red wines, though far less common here, can be quite good, especially when made from the deeply colored, rustic Refosco variety. In Collio Goriziano, which abutts Slovenia, many of the same varieties are planted. International varieties like Merlot, Cabernet Sauvignon, and Cabernet Franc are also common, but they tend to be Loire-like in style with herbaceous character and mellow tannins. Carso's star grape is the red Teranno, notable for being rich in iron content and historically consumed for health purposes. It has an earthy, meaty profile and is often confused with the distinct variety Refosco.
High-pitched, delicately perfumed and vibrant, Friulano thrives in the northeastern Italian region of Friuli-Venezia Giulia near the border of Slovenia. The Friulano grown today, while named for its present home of Friuli, is actually the Sauvignonasse grape, a minor cultivar from Bordeaux.
Extensive in the area by the early 1930s, Friulano can be found in all major Friulian DOC zones: Colli Orientali, Collio, Grave del Friuli, and Isonzo. It is usually, but not always, bottled as a single-varietal wine, which are light in color and body. White peach, honeydew melon and citrus peel flavors prevail and its texture ranges from light and smooth to fresh and fine-grained. Contemplative aromas of jasmine, mint, ginger, almond and spicy herb can come into play. Friulano wines are usually best when drunk young and make great starter picks or pairings for light courses. Try it with prosciutto and other delicate cold cuts as well as any dish including the earthy spice of horseradish.