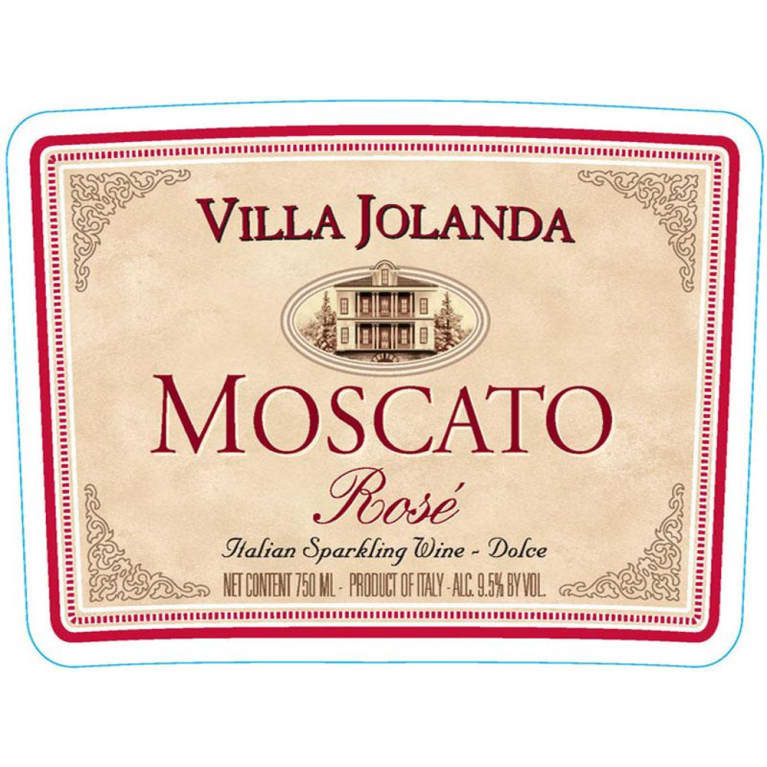 Villa Jolanda Moscato Rose
Ships Tomorrow
Limit
0
bottles
per customer
Winemaker Notes
This delicate sparkling wine from Italy's northern region with a fine and persistent bubble. It boasts a rare bouquet of berries, rose petals, with a touch of vanilla and a unique effervescence. delicious and lightly sweet with a soft finish.
The grapes, manually picked, are immediately pressed and their must, filtered and refrigerated, is conserved at a low temperature until the following fermentation phase in order to preserve the freshness of its bouquet. The sparkling process is carried out with a second controlled fermentation in tank, known as the Charmat method.
It pairs wonderfully with fruits and desserts.
Villa Jolanda is crafted by Santero, a sparkling and still wine producer located in Piedmont, Italy in the southwest province of Cuneo.
The winery was founded by the Santero brothers in 1958 and renovated in 1977 to process fruit from its five estate-owned vineyards and over 300 local winegrowers. It is best known for its large export market, unique packaging, and expansive portfolio of sweet wines. The impressive and extremely modern winery covers an area of 25,000 square meters with a total storage of 120,000 hectoliters. 
The Langhe and Monferrato, declared a UNESCO world heritage site, represent the area of origin of the white muscat grapes which are used in the production of the wine. The characteristics of this wine are their special aromas and sweetness.
Set upon a backdrop of the visually stunning Alps, the enchanting and rolling hills of Piedmont are the source of some of the country's longest-lived and most sought-after wines. Vineyards cover a great majority of the land area—especially in Barolo—with the most prized sites at the top hilltops or on south-facing slopes where sunlight exposure is maximized. Piedmont has a continental climate with hot, humid summers leading to cold winters and precipitation year-round. The reliable autumnal fog provides a cooling effect, especially beneficial for Nebbiolo, Piedmont's most prestigious variety.
In fact, Nebbiolo is named exactly for the arrival of this pre-harvest fog (called "nebbia" in Italian), which prolongs cluster hang time and allows full phenolic balance and ripeness. Harvest of Nebbiolo is last among Piedmont's varieties, occurring sometime in October. This grape is responsible for the exalted wines of Barbaresco and Barolo, known for their ageability, firm tannins and hallmark aromas of tar and roses. Nebbiolo wines, despite their pale hue, pack a pleasing punch of flavor and structure; the best examples can require about a decade's wait before they become approachable. Barbaresco tends to be more elegant in style while Barolo is more powerful. Across the Tanaro River, the Roero region, and farther north, the regions of Gattinara and Ghemme, also produce excellent quality Nebbiolo.
Easy-going Barbera is the most planted grape in Piedmont, beloved for its trademark high acidity, low tannin and juicy red fruit. Dolcetto, Piedmont's other important red grape, is usually ready within a couple of years of release.
White wines, while less ubiquitous here, should not be missed. Key varieties include Arneis, Cortese, Timorasso, Erbaluce and the sweet, charming Muscat, responsible for the brilliantly recognizable, Moscato d'Asti.
Whether it's playful and fun or savory and serious, most rosé today is not your grandmother's White Zinfandel, though that category remains strong. Pink wine has recently become quite trendy, and this time around it's commonly quite dry. Since the pigment in red wines comes from keeping fermenting juice in contact with the grape skins for an extended period, it follows that a pink wine can be made using just a brief period of skin contact—usually just a couple of days. The resulting color depends on grape variety and winemaking style, ranging from pale salmon to deep magenta.