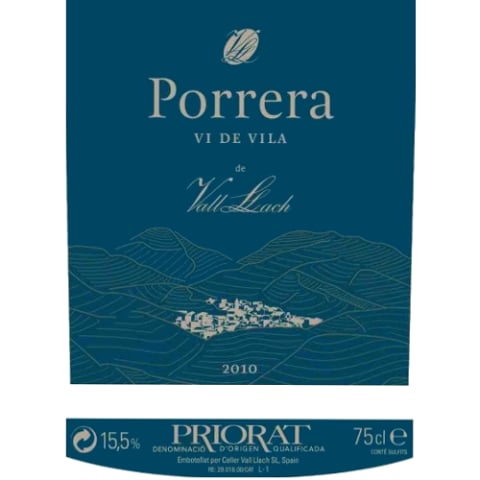 Vall Llach Porrera de Vi de Vila Priorat 2010
Winemaker Notes
Porrera's great Carignan grapes are famous in the auspicious circles of world wine connoisseurs. Celler Vall Llach is privileged to possess vineyards which grow extraordinary Carignan grapes and which have allowed the winery to release this new Vi de Vila de Porrera (new category of wine within the DOCa. Priorat which is based on the concept of village-level wines), as the winery's true jewel. Ancient Carignan vines, carefully selected from vineyards which are over a hundred years old and then blended with Grenache grapes. These vines are from a different era and truly define the personality of the Porrera de Vall LLach.
Blend: 70 % Carinena, 30% Garnacha
Critical Acclaim
All Vintages
Powerful and expressive, this bold red delivers ripe, slightly edgy flavors of kirsch, blackberry and chocolate, with savory accents of tar, rhubarb and mineral. Delivers a thick texture, supported by firm tannins and balsamic acidity. A bit rude, but energetic. Drink now through 2025.
Dark, dense with rich intensity and ripe flavors of blackberry, cassis and chocolate; not for the faint of heart, a full-throttle red with amazing depth and vivid flavors. 70% Carinena, 30% Garnacha.
The 2010 Porrera Vi de Vila, a blend of 70% Carinena and 30% Garnacha, displays a very ripe personality with black and blue berries and even hints of black olives and perfumed notes of violets and rose petals. The palate is equally fragrant, big and ripe, but with enough acidity and freshness to make it balanced and even elegant in the context. A gentle giant.
Dense, dark-fruit aromas of blueberry and cassis are earthy and almost overripe. A saturated, bold palate delivers blackberry, chocolate, fig, herb and rooty flavors in front of a chunky finish. Consistent with the Vall Llach house style, this is ripe and modern.
View More
From its founding in the early 1990s, by famed Spanish singer Lluís Llach and notary Enric Costa, Vall Llach winemaking has been governed by a commitment to rigor and quality. The winery lies in the tiny village of Porerra, in southern Catalonia, in the highly-acclaimed D.O.Q. Priorat. Here, the magnificent century-old vineyard estates of Vall Llach are home to 60- to 90-year-old Cariñena and Garnacha vines.
Old vines naturally produce low yields, and Vall Llach reduces yields even further through careful vineyard management for densely concentrated wines. Vineyards climb steep slate hillsides, receiving optimum sun exposure and beneficial water deprivation, further concentrating the fruit. Newer plantings of Garnacha, Cabernet Sauvignon, Merlot and Syrah add complexity to the old-vine character, and the resulting wines - Vall Llach, Idus, and Embruix - have received high critical acclaim.
Tiny and entirely composed of craggy, jagged and deeply terraced vineyards, Priorat is a Catalan wine-producing region that was virtually abandoned until the early 1990s. Its renaissance came with the arrival of one man, René Barbier, who recognized the region's forgotten potential. He banded with five friends to create five "Clos" in the village of Gratallops. Their aim was to revive some of Priorat's ancient Carignan vines, as well as plant new—mainly French—varieties. These winemakers were technically skilled, well-trained and locally inspired; not surprisingly their results were a far cry from the few rustic and overly fermented wines already produced.
This movement escalated Priorat's popularity for a few reasons. Its new wines were modern and made with well-recognized varieties, namely old Carignan and Grenache blended with Syrah, Cabernet Sauvignon and Merlot. When the demand arrived, scarcity commanded higher prices and as the region discovered its new acclaim, investors came running from near and far. Within ten years, the area under vine practically doubled.
Priorat's steep slopes of licorella (brown and black slate) and quartzite soils, protection from the cold winds of the Siera de Monstant and a lack of water, leading to incredibly low vine yields, all work together to make the region's wines unique. While similar blends could and are produced elsewhere, the mineral essence and unprecedented concentration of a Priorat wine is unmistakable.
With hundreds of red grape varieties to choose from, winemakers have the freedom to create a virtually endless assortment of blended wines. In many European regions, strict laws are in place determining the set of varieties that may be used, but in the New World, experimentation is permitted and encouraged. Blending can be utilized to enhance balance or create complexity, lending different layers of flavors and aromas. For example, a variety that creates a fruity and full-bodied wine would do well combined with one that is naturally high in acidity and tannins. Sometimes small amounts of a particular variety are added to boost color or aromatics. Blending can take place before or after fermentation, with the latter, more popular option giving more control to the winemaker over the final qualities of the wine.
CGM26134_2010
Item#
136601