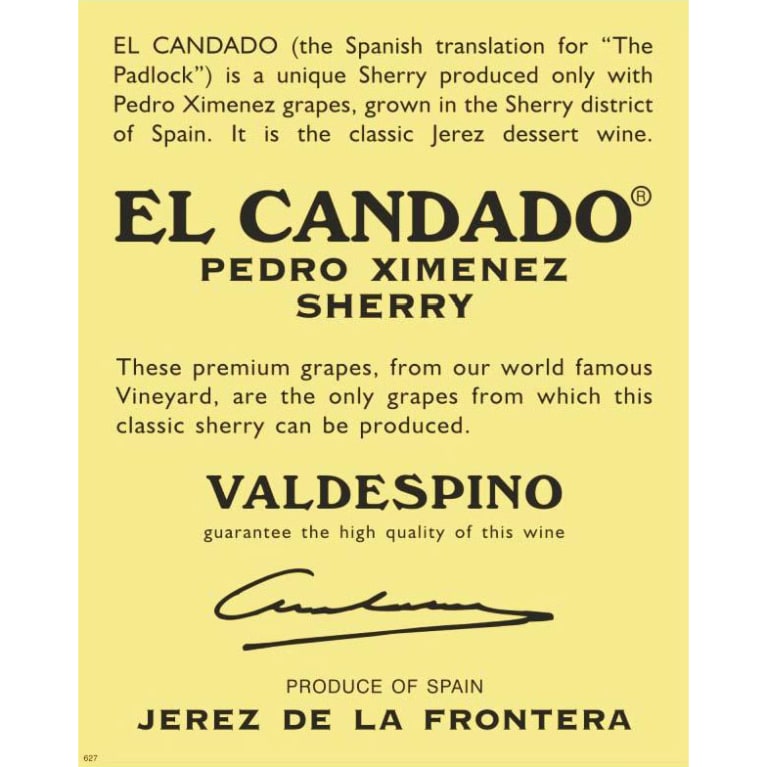 Valdespino Pedro Ximenez El Candado
Winemaker Notes
An intense color of mahogany with deep aromas of dried fruits (figs and raisins) and subtle notes of chocolate and coffee. The palate is very smooth and velvety with prune notes and a very long finish.
Critical Acclaim
All Vintages
Offers layers of macerated date, ganache, warm caraway, buckwheat honey and chocolate-covered orange peel notes, with a deep, intense finish that lets a wonderfully smoky hint curl through. The power is obvious, the range and definition more subtle. Drink now.
You can drink this wine at the end of a meal just for the pleasure of feeling its exuberant complexity and sweetness. But you can also add a couple drops to your vanilla ice cream and enjoy the way this PX dissolves its pecan pie and candied almond flavors in the chill of the vanilla. An ample wine, this has the texture of chocolate seconds before melting.
View More
Valdespino is a tiny crown jewel of a winery that exists within a much larger wine and spirits company called Grupo Estevez. The goal of the winery is to use all the possible resources of the company to make some of the finest, most distinctive and artisinally-produced Sherries that are available today. This "spare no expense" approach applies to everythng from the entry-level Finos and Manzanillas all the way up to their uber-rare and amazingly complex VOS and VORS wines that hearken from ancient and well-kept soleras.
The origins of this historic bodega date back to 1264 when Don Alfonso Valdespino, one of 24 Knights responsible for expelling the Moors from Jerez, was rewarded for his efforts by the king, granting him land in the city of Jerez. And thus began Bodegas Valdespino! The estate was purchased most recently by Grupo Estevaz in 1999.
Today, Valdespino is unique in the world of Sherry for 3 main reasons: The vineyards, the winemaking, and the length of aging.
The heart and soul of Valdespino, of course, is its vineyards. They are the only sherry house to make a series of wines from a single vineyard, called Macharnudo Alto. This parcel is considered one of the "grand crus" of Jerez because it is located at the highest altitude and on pure Albariza soils (bright white chalk). The single-vineyard Macharnudo wines are also considered part of the Grandes Pagos de España, an elite group of very special vineyard sites throughout Spain, and Valdespino is the only sherry house with this status.
In addition, all Valdespino wines are barrel-fermented in used oak and also allowed to decide their destiny naturally (biological vs. oxidative aging)! Almost all the houses in Jerez do the fermentations in stainless steel and inoculate the Flor to produce wines of a particular style. They are also one of a few estates that take the solera system to the extreme going way beyond DO minimum regulations for all the categories. As an example Fino sherry is required to have 2 criaderas(nursery levels of the solera) and the DO average tends to be 3 – Valdespino's Fino Inocente has 10 Criaderas! This additional aging, of course, gives the wines an additional level of complexity, texture and concentration.
When it comes to food and wine pairings – sherry has a lot to contribute. One unusual aspect in this regard is that biologically aged wines (those aged under veil of flor) possess umami. This savory/earthy taste characteristic is very pronounced in the biologically aged wines of Valdespino because of not only their natural winemaking techniques but because the wines are aged well beyond the average for their peer group.
Known more formally as Jerez de la Frontera, Jerez is a city in Andalucía in southwest Spain and the center of the Jerez region and sherry production. Sherry is a mere English corruption of the term Jerez, while in French, Jerez is written, Xérès. Manzanilla is the freshest style of sherry, naturally derived from the seaside town of Sanlúcar de Barrameda.
Sherry is a fortified wine that comes in many styles from dry to sweet. True Sherry can only be made in Andalucía, Spain where the soil and unique seasonal changes give a particular character to its wines. The process of production—not really the grape—determine the type, though certain types are reserved for certain grapes. Palomino is responsible for most dry styles; Pedro Ximénez and Muscat of Alexandria are used for blending or for sweet styles.