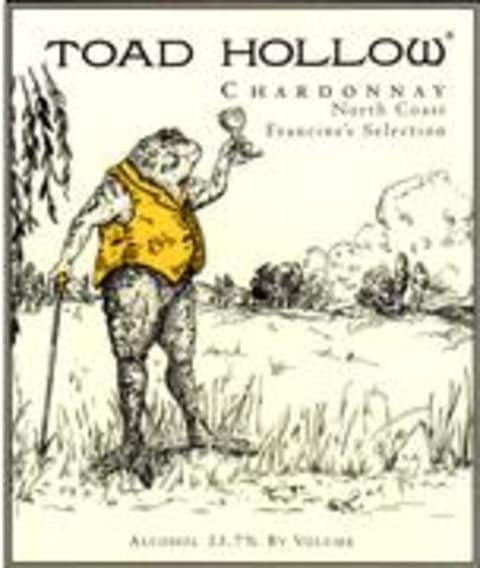 Toad Hollow Chardonnay 1999
Chardonnay
from
Sonoma County, California
Ships Fri, Mar 29
Limit
0
bottles
per customer
Winemaker Notes
It's time to let the Chardonnay genie out of the bottle. For too many months you've been asked to go slow and suffer the slings and arrows of the shortage of our Chardonnay. First it was a gentle slow down, and then a more firm braking action. Finally, alas, a panic stop with the appropriate apologies. But, never the less the final discouraging word: "There is no more." We were faced with a parched Chardonnay landscape. Well, the wait is over at long last. We have bottled our new Chardonnay. It is the best Chardonnay of our career. It has a gentle, steely center and a flutey acidity that wiggles unadulterated by a wooden forest marching across your palate. The gate is now open and the Chardonnay flows freely across the land. We're so glad it's back. And we know you are too. We've asked the Chardonnay genie for the traditional three wishes: #1, let us have enough to last through September; #2, that there would be a soupsôn left for continued pleasures and merriment; and #3, maybe hopefully to finish the holidays and foster fond memories. As we watch the new leaves push through their embryonic and hopeful new buds, we know that the Chardonnay will continue to flow through our vineyards and will never be stilled for long. Chardonnay is a force of nature.
Toad Hollow Vineyards began operation in 1994, with 3000 cases of 1993 Russian River Valley Chardonnay. Our Chardonnay is 100% Stainless Steel fermented, using no oak at all. Since then we have added additional wines, a Russian River Merlot (Richard McDowell Vineyard), a Russian River Pinot Noir (Goldies Vines) a Zinfandel from Paso Robles and a Rose of Pinot Noir from Carneros. In 1995 we started to import wines made by our French friends at Sieur D'Arques and now have two sparklings and three still wines in our portfolio. Our mission is to produce quality wines that are interesting at a reasonable price. Our labels are whimsical, supporting another element of our philosophy - we believe drinking wine should be FUN!
Toad Hollow is a collaboration of two old friends who, more or less, retired to an existence of peace and quiet in the Hollow, after a life of whirlwind world travel. Neither of these two gentlemen believed in self-denial, and over the years had probably wined and dined at every major eatery and watering hole in the universe. They began to discuss the fun times they had experienced over many years, remembering all the wonderful people they had met. During their conversation they decided they wanted to find a way to repay the warmth and friendship shown them along the way.
NDV534024_1999
Item#
12011