The Dalmore Cigar Malt Reserve Single Malt Scotch Whisky
Single Malt Scotch Whisky
Distiller Notes
The Dalmore Cigar Malt Reserve is initially matured in American white oak ex-bourbon casks and rare 30 year old Matusalem oloroso sherry casks from the renowned Gonzalez Byass bodega. For its final flourish, it is further finessed in Cabernet Sauvignon wine barriques that gift the whisky its unique body and character. The body, structure and character of this extraordinary expression is one of a kind. 
Aromas of cinnamon, vanilla and red fruits. Tropical fruits, banana toffee and vanilla ice cream on the palate. Finishing notes of orange zest, dark chocolate and crushed spices.
Critical Acclaim
All Vintages
Aged in a series of barrels—first American oak, then transferred to a former oloroso Sherry cask and finished in used Cabernet Sauvignon barriques—this Scotch would be an outstanding dessert accompaniment too. Look for dusty cocoa and lots of Sherried dark fruit, like figs and dates, wrapped in caramel and baking tones that linger on the spicy finish.
Aged in a mix of American white oak barrels, oloroso casks, and cabernet sauvignon barriques. Sherry, vanilla, caramel, ripe cherries, and sultanas on the nose. The palate yields characteristic Dalmore orange, plus brittle toffee, bitter chocolate, and cherry liqueur. Spicy licorice and soft oak in the finish.
View More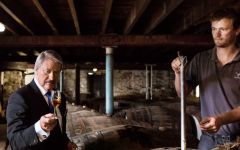 The Dalmore's heritage dates back to 1263. It was in this year that Colin of Kintail, Chief of the Clan Mackenzie, saved King Alexander III from the fury of a charging stag. In recognition of this noble act the King granted the Mackenzie Clan the right to use the 12 pointed Royal stag emblem on their coat of arms. When descendants of the Clan became owners of The Dalmore distillery in 1867, the Royal Stag became the recognizable icon that proudly adorns each bottle of The Dalmore today; an emblem which encapsulates a rich past whilst also embodying a promise that The Dalmore will remain at the pinnacle of single malt.
The Dalmore house style derives from a close and trusted relationship that was forged with sherry house González Byass over 100 years ago. The rare casks, which have previously held 30 year old Matusalem oloroso sherry, are exclusive to The Dalmore. These casks enrich the signature chocolate and orange character of our whisky with rich and nutty flavors.
To create a more complex character, some of our whiskies benefit from an extra flourish in additional casks. Every cask that we source is of impeccable quality and hand-selected to produce our renowned Single Malt Whisky. 
A pioneer in the art of cask curation, Master Distiller Richard Paterson has been the creative force behind The Dalmore for nearly five decades. Inspired by the vision of The Dalmore's founder, Sir Alexander Matheson, and the achievements of the Mackenzie family who came before him, Richard is admired across the globe for his passion and innovative flair.
Throughout these 50 years, Richard Paterson has been on a mission to push the boundaries of what is possible in whisky production and the art of cask curation. His unparalleled expertise and intimate knowledge of rare and precious casks have produced truly iconic, ground-breaking expressions from The Dalmore, that have set the standard in Single Malt Whisky.