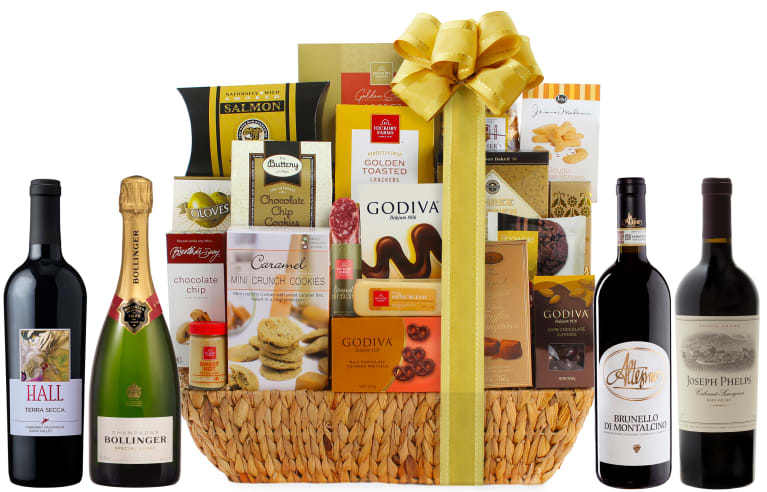 Super Grand Gourmet Wine Gift Basket
Description
We filled this basket to the brim and paired it with an incredible selection of four delicious wines sure to impress the discerning palate: Joseph Phelps Cabernet Sauvignon, Bollinger Brut Special Cuvee, Altesino Brunello di Montalcino, and Hall Terra Secca Cabernet Sauvignon. For food and treats, we added a collection of delicacies like salami, smoked salmon, and truffles and tied everything up with a gorgeous bow. Makes a great gift!
Wine Gift Basket Includes:
2019 Joseph Phelps Cabernet Sauvignon
A classic Napa Valley Cabernet Sauvignon with inviting violet, dark fruit, tobacco, subtle baking spice and earthy dried herb aromatics. The palate is filled with expressive black cherry, blackberry, and dark plum, hints of spice box, and sweet vanilla bean. A focused, concentrated wine with youthful energy and freshness nimbly balanced by supple tannin structure and finesse.
Rated 94 Points: Wine Enthusiast
Bollinger Brut Special Cuvee
A golden color, distinctive of black grape varieties. Very fine bubbles. On the nose, it has a beautiful aromatic complexity, ripe fruit, and spicy aromas, with hints of roasted apples, apple compote, and peaches. On the palate, there is a subtle combination of structure, length, and vivacity. The bubbles are like velvet. Flavors of pear, brioche, and spicy aromas, notes of fresh walnut.
Rated 96 Points: Decanter
2017 Altesino Brunello di Montalcino
Brilliant ruby-red color, this classic Rosso offers sumptuous aromas of ripened blackberries and dark cherries. On the palate, the wine is generously well-rounded and rich with fruit-forward notes complimented by hints of leather and mesquite.
Rated 95 Points: James Suckling
2018 Hall Terra Secca Cabernet Sauvignon
The 2018 Terra Secca opens with inviting aromas of ripe black plum, freshly turned earth, and dried herbs. Densely structured and focused on the palate with flavors of mocha-laced blackberry, savory undertones, and crushed gravel. The dynamic and powerful mid-palate has a slight tension to it that is softened by the lush and lengthy finish. This wine will age gracefully for several years to come.
Rated 94 Points: Wilfred Wong
Gourmet Smoked Salmon 2 oz
Hickory Farms Mission Jack Blend Cheese 4 oz
Oloves Mediterranean Olives 1 oz
Hickory Farms Italian Dry Salami 5 oz
Hickory Farms Sweet Hot Mustard 2.5 oz
Hickory Farms Golden Toasted Crackers 1.5 oz
J&M Cheese Straws 2.5 oz
Vineyard Gourmet Collection Three Pepper Blend Water Crackers 4 oz
Biscotti Di Suzy Cranberry Biscotti 2 oz
Godiva Dark Chocolate Almonds 2 oz
Hickory Farms Chocolate Dipped Sandwich Cookies 1 oz
Godiva Chocolate Pretzels 3 oz
Too Good Gourmet Caramel Mini Crunch Cookies 6 oz
J&M Chocolate Brownie Cookie 1 oz
Thatcher's Caramel Popcorn 3 oz
J&M Chocolate Chip Cookies 3 oz
Godiva Assorted Truffles 4 oz
Dolcetto Chocolate Wafer Cookie 1 oz
Jacques French Truffles 3.5 oz
J&M Oatmeal Cranberry Cookie 1 oz
Hickory Farms White Chocolate Dipped Sandwich Cookies 1 oz
Large Reusable Water Hyacinth Basket
Gift components, gift baskets, ribbon, wine or vintages can sometimes sell out due to the popularity of our gifts. If this happens, we will always substitute with replacements of equal or greater value such as similar gift components, gift baskets, ribbons, wines, or alternative vintages. Pursuant to state laws in New York, gifts that contain both food and wine will be sent in two separate packages.
PDX126316FL_0
Item#
126316