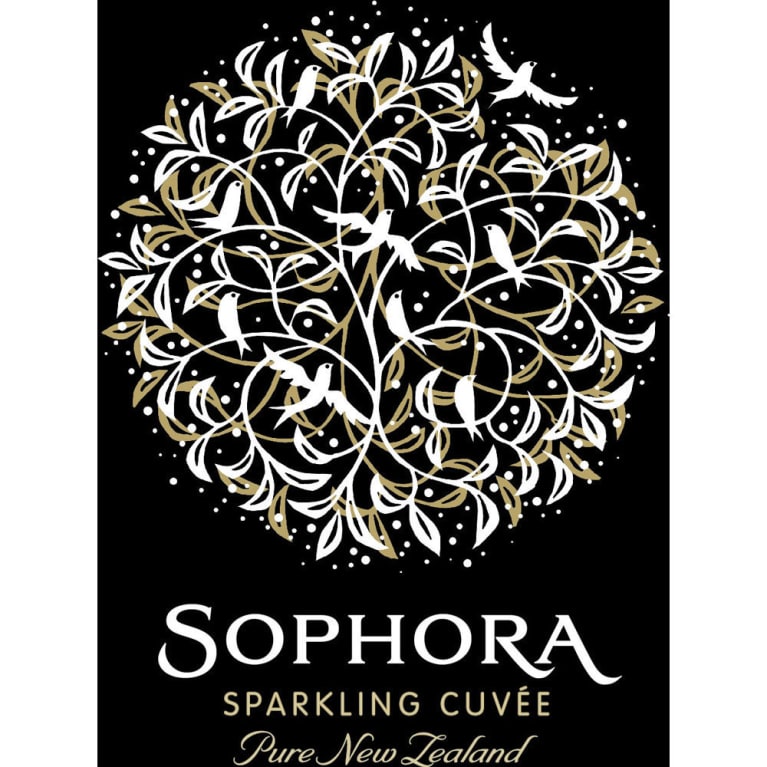 Winemaker Notes
This Cuvée of Chardonnay and Pinot Noir has elegant aromas, is rich and full on the palate with a pleasant, lasting mousse. Sophora exhibits an array of ripe fruit flavors and vibrant citrus combined with delicate yeasty characters and a naturally balanced acidity to produce a luscious style of sparkling wine.
Sophora symbolizes the natural beauty and excitement of New Zealand. Our premium vineyards are located in the Gisborne and Hawke's Bay districts of New Zealand's North Island. A classically cool climate region with maritime influenced and a long growing season. Pristine growing conditions and abundant sunshine enhances the vibrancy of our sparkling cuvée. We bottle ferment this cuvée of Chardonnay and Pinot Noir to deliver a wonderful array of floral aromas and ripe fruit flavors. Each glass of Sophora is rich, luscious and layered with delicate bubbles.
A relatively young but extremely promising wine producing country, New Zealand is widely recognized for its distinctive wines made from the aromatic, Sauvignon blanc.
The world's most southerly vineyards are found here, with significant climatic variation both between and within the warmer North Island and the cooler South Island. Overall, the climate is maritime, with plenty of rainfall, as well as abundant sunshine. Producers have almost unilaterally embraced cutting-edge winery technology, resulting in clean, high-quality wines at every price point from wallet-friendly to premium.
Sauvignon blanc, known here for its trademark herbaceous character, is at its best in Marlborough but thrives throughout the nation, accounting for an overwhelming majority of the country's exports. While this is indeed the country's most planted and successful variety, it is certainly not the only New Zealand grape capable of delighting wine lovers.
Chardonnay is the second-most important white variety and takes on a supple texture with citrus and tropical fruit aromas in Gisborne and Hawke's Bay, respectively. Pinot noir, second behind Sauvignon blanc in national production numbers, is at its best in Central Otago—the most southerly winegrowing region in the world! These wines are known for bright and juicy red fruit. Taking cues from the wines of Alsace, aromatic varieties like Pinot Gris, Riesling and Gewürztraminer shine in Martinborough, while red Bordeaux varieties like Cabernet Sauvignon and Merlot have found success in Hawke's Bay. Throughout New Zealand but especially in Marlborough, Pinot noir and Chardonnay are used to produce traditional method sparkling wines.
A term typically reserved for Champagne and Sparkling Wines, non-vintage or simply "NV" on a label indicates a blend of finished wines from different vintages (years of harvest). To make non-vintage Champagne, typically the current year's harvest (in other words, the current vintage) forms the base of the blend. Finished wines from previous years, called "vins de reserve" are blended in at approximately 10-50% of the total volume in order to achieve the flavor, complexity, body and acidity for the desired house style. A tiny proportion of Champagnes are made from a single vintage.
There are also some very large production still wines that may not claim one particular vintage. This would be at the discretion of the winemaker's goals for character of the final wine.
HNYSOPBRTNVC_0
Item#
130442