Winemaker Notes
Light yellow-green color with grey hues. The wine reveals elegant aromas reminiscent of roses, lemon and white flowers. Medium to full bodied, refreshing taste, balanced palate with crispy and long aftertaste due to its pleasant acidity.
The wine can be enjoyed with shellfish, prawns, crayfish and fish in lemon sauces.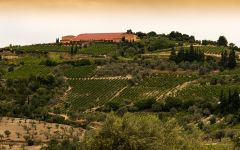 Since 1979 an evolving tradition in winemaking excellence
Founded in 1979, with deep roots in time-honored winemaking traditions and eyes on the future, the Semeli Estate produces wines of exceptional quality offering consumers best value for money. The sunny Mediterranean climate and the extraordinary terroir, combined with the expert craftsmanship of their winemakers and the successful blending of indigenous and international varieties, result in wines of distinct character that have earned the respect of experts and captured the hearts of wine lovers worldwide.
Semeli Estate ranks among the country's most advanced and significant wine-related developments … in the heart of a unique Greek terroir
Their privately-owned hillside vineyards span 30 hectares, while another 90 hectares are grown by affiliated local winegrowers. This allows for continuous quality control throughout the growing season - an absolute must for consistently producing great wines. Their state-of-the-art 4,200m² facility in the Nemea winemaking country, which can produce up to two million bottles annually, is a benchmark winery at a national level both in terms of innovative layout and excellent services. Designed with respect for the natural environment and built on a vineyard covered hillslope with a long reputation of producing vintage grapes, the Semeli winery reflects their holistic approach to modern winemaking. The Semeli-owned vineyards and those grown by affiliated winegrowers span more than 250 acres in the PDO areas of Nemea and Mantinia, as well as in other parts of the Peloponnese. To ensure the best grape quality possible, the Semeli-owned vineyards are currently in the process of transitioning from conventional to organic cultivation. In the next five years Semeli Estate plans to double its company-owned acres and develop ideal terroirs for the cultivation of well-known Greek and international varieties, as well as rare indigenous ones, which will produce unique single vineyard/single cru wines of exceptional quality. 
A large southern region of Greece, the Peloponnese contains the famous appellations of Nemea and Mantineia. While connected to the mainland by a tiny strip of land, essentially the region is a large Mediterranean island and excels in the production of red wine from Agiorghitiko, white from Moscofilero and sweet wine from the Mavrodaphne grape.
There are hundreds of white grape varieties grown throughout the world. Some are indigenous specialties capable of producing excellent single varietal wines. Each has its own distinct viticultural characteristics, as well as aroma and flavor profiles.
OPC29309_2018
Item#
540703