Sartori Valpolicella Classico 1996
Winemaker Notes
Ruby-red, dry and medium-bodied with a fresh velvety aftertaste.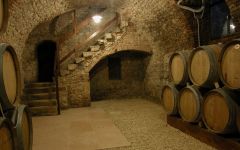 To Juliet's question "What's in a name?" the Sartori family would answer "Everything!" For over a century, Sartori, a leading name in fine wines from northeast Italy's Veneto region, has stood for traditional values elevated by innovation, a dedication to quality and — above all — a boundless passion for quality winemaking.
The family took its first step in 1898, when Pietro Sartori bought Villa Maria, a vineyard with a small cellar attached, in the heart of the Veneto region's Valpolicella district, to assure a source of high quality wine for his hotel. This marked the advent of Sartori di Verona. A few years later, Pietro's son, Regolo, built the winery into the family's core business, and by the 1950s Regolo's two sons expanded the winery and brought these wines to international recognition, exporting them around the world.
Today, Andrea Sartori, Pietro's great-grandson, is at the helm. Like his forefathers, he has taken steps to broaden the reputation of Sartori di Verona and to guarantee the quality behind it.
In 2002, the company joined with Cantina Colognola, giving the family rare guaranteed access to more than 6,200 acres of high-quality grapes in the Soave and Valpolicella zones, where few wine houses control their own vineyards.
In 2003, Sartori hired the renowned Franco Bernabei as consulting winemaker. His work with the winery marks a return to Bernabei's roots: although he has lived in Tuscany for over 25 years, he is, in fact, a native son of the Veneto.
Most recently, in 2006, Sartori introduced a new premium collection of Veneto wines crafted by Bernabei at its new winery, I Saltari, in the Mezzane Valley, east of Verona. The winery is named after the mercenary vineyard guardians, known in native dialect as Saltari, hired by vineyard owners from the 16th through the 18th centuries to protect their grapes from thieves and bandits. With legal authority to shoot grape thieves on sight, the Saltari were ready defenders of the vineyards. The choice of the name reflects the winery's own dedication to defending tradition and expressing these vineyards' unique terroir.
A constant theme over the last century has been the Sartori family's bond with their land: it is a heritage that has evolved and is reflected in their new interpretations of the great classical Veronese wines, as well as in their innovative expressions of traditional varietals.
Among the ranks of Italy's quintessential red wines, Valpolicella literally translates to the "valley of cellars" and is composed of a series of valleys (named Fumane, Marano and Negrare) that start in the pre-alpine Lissini Mountains and end in the southern plains of the Veneto. Here vineyards adorn the valley hillsides, rising up to just over 1,300 feet.
The classification of its red wines makes this appellation unique. Whereas most Italian regions claim the wines from one or two grapes as superior, or specific vineyards or communes most admirable, Valpolicella ranks the caliber of its red wines based on delimited production methods, and every tier uses the same basic blending grapes.
Corvina holds the most esteem among varieties here and provides the backbone of the best reds of Valpolicella. Also typical in the blends, in lesser quantities, are Rondinella, Molinara, Oseleta, Croatina, Corvinone and a few other minor red varieties.
Valpolicella Classico, the simplest category, is where the region's top values are found and resembles in style light and fruity Beaujolais. The next tier of reds, called Valpolicella Superiore, represents a darker and more serious and concentrated expression of Valpolicella, capable of pairing with red meat, roast poultry and hard cheeses.
Most prestigious in Valpolicella are the dry red, Amarone della Valpolicella, and its sweet counterpart, Recioto della Valpolicella. Both are created from harvested grapes left to dry for three to five months before going to press, resulting in intensely rich, lush, cerebral and cellar-worthy wines.
Falling in between Valpolicella Superiore and Amarone is a style called Valpolicella Ripasso, which has become immensely popular only since the turn of the century. Ripasso literally means "repassed" and is made by macerating fresh Valpolicella on the pressed grape skins of Amarone. As a result, a Ripasso will have more depth and complexity compared to a regular Superiore but is more approachable than an Amarone.
Beyond the usual suspects, there are hundreds of red grape varieties grown throughout the world. Some are indigenous specialties capable of producing excellent single varietal wines, while others are better suited for use as blending grapes. Each has its own distinct viticultural characteristics, as well as aroma and flavor profiles, offering much to be discovered by the curious wine lover. In particular, Portugal and Italy are known for having a multitude of unique varieties but they can really be found in any region.
FED81244_1996
Item#
26343