Santi Valpolicella Solane 2003
Winemaker Notes
Ruby red, intense bouquet, cloves, vanilla cherry jam and almonds. Dry taste, full, warm and harmonious with an elegant finish.
Blend: 65% Corvina, 30% Rondinella, 5% Molinara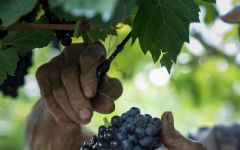 Santi traces its origins to 1843, when Carlo Santi established a wine cellar in Illasi, near Verona and Lake Garda. The original winery, very attractively renovated, still houses the winemaking facilities and aging cellar and stands on the plain below Castello d'Illasi, a ruined medieval fortress. Santi specializes in Veneto and Trentino wines. In addition to experimenting with the benefits of aging in new French oak barrels (barriques) for wines such as their single vineyard Trentino Chardonnay I Piovi, Santi emphasizes new techniques to improve the quality of their wines.
Italian Red Wine
While picturesque hillsides, endless coastlines and a favorable climate serve to unify the grape-growing culture of this country. The apparent never-ending world of indigenous grape varieties gives Italy an unexampled charm and allure for its red wines. From the steep inclines of the Alps to the sprawling, warm, coastal plains of the south, red grape varieties thrive throughout.
The kings of Italy, wines like Barolo and Barbaresco (made of Nebbiolo), and Chianti and Brunello di Montalcino (made of Sangiovese), as well as Amarone (mostly Corvina), play center stage for the most lauded, collected and cellar-worthy reds. Less popular but entirely deserving of as much praise are the wines made from Aglianico, Sagrantino and Nerello Mascalese.
For those accustomed to drinking New World reds, the south is the place to start. Grapes like Negroamaro or Primitvo from Puglia and Nero d'Avola from Sicily make soft, ammicable, full-bodied, fruit-dominant wines. Curious palates should be on the lookout for Cannonau (Grenache), Lagrein, Teroldego, Ruché, Freisa, Cesanese, Schiopettino, Rossese and Gaglioppo to name a few.