San Felice Perolla Vermentino 2021
Winemaker Notes
Straw yellow. On the nose, scents of grapefruit citrus emerge, along with spring blossoms and newly-mown hay. The palate shows a refreshing crispness, with subtle citrus in the background.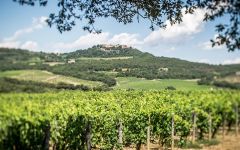 Agricola San Felice is steeped in local lore and history. Named after a local early Christian Saint from the 18th century, the property was bought by the Grisaldi Del Taja family – the founding members of the Chianti Classico consortium. The family produced wine for several centuries until 1968 when the estate passed to Enzo Morganti. Prior to assuming control, Enzo Morganti spent two decades researching and experimenting with Sangiovese clones at Tenuta di Lilliano. At San Felice, he restructured and transformed this venerable estate, concentrating on high quality winemaking, systematic scientific research and thoughtful vineyard purchases, which included the Campogiovanni vineyard in Montalcino in 1984. Today the property includes a 1,853 acre resort, 445 acres of vineyards and a 44 acre parcel dedicated to experimental viticulture and genetic improvement of Sangiovese,
The San Felice vineyards are situated amongst the gently rolling hills of the Castelnuovo Berardenga area of Chianti Classico. The vines are planted in two different soil types: calcareous clay and a combination of sand and lime. The terroir of Campogiovanni, including its sandy, mineral-rich argillous soil, allows Sangiovese vines to grow slowly and steadily, therefore producing unusually complete and balanced grapes. In addition to indigenous varietals like Toscana's classic Sangiovese, San Felice has plantings of international varieties such as Cabernet Sauvignon, Chardonnay and Sauvignon Blanc. Like Enzo, winemaker Leonardo Bellacini has spent much of his career working with Sangiovese carries on the legacy of tradition and research and experimentation.
One of the most iconic Italian regions for wine, scenery and history, Tuscany is the world's most important outpost for the Sangiovese grape. Tuscan wine ranges in style from fruity and simple to complex and age-worthy, Sangiovese makes up a significant percentage of plantings here, with the white Trebbiano Toscano coming in second.
Within Tuscany, many esteemed wines have their own respective sub-zones, including Chianti, Brunello di Montalcino and Vino Nobile di Montepulciano. The climate is Mediterranean and the topography consists mostly of picturesque rolling hills, scattered with vineyards.
Sangiovese at its simplest produces straightforward pizza-friendly Tuscan wines with bright and juicy red fruit, but at its best it shows remarkable complexity and ageability. Top-quality Sangiovese-based wines can be expressive of a range of characteristics such as sour cherry, balsamic, dried herbs, leather, fresh earth, dried flowers, anise and tobacco. Brunello, an exceptionally bold Tuscan wine, expresses well the particularities of vintage variations and is thus popular among collectors. Chianti is associated with tangy and food-friendly dry wines at various price points. A more recent phenomenon as of the 1970s is the "Super Tuscan"—a red wine made from international grape varieties like Cabernet Sauvignon, Merlot, Cabernet Franc and Syrah, with or without Sangiovese. These are common in Tuscany's coastal regions like Bolgheri, Val di Cornia, Carmignano and the island of Elba.
A fantastic, aromatic white grape that grows with great success in Sardinia, Tuscany and in lesser proportions on the island of Corsica. Somm Secret—Vermentino is thought to be genetically identical to Liguria's Pigato grape and Peidmont's Favorita. It comprises a large proportion of the whites in southern France where it is called Rolle.
MAD78047_2021
Item#
1104314