Royal Tokaji Tokaji Betsek 6 Puttonyos Aszu 1995
Ships Mon, Jan 1
Limit
0
bottles
per customer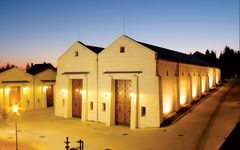 The first Tokaji Aszú (toh-KAY ah-SOO) wine was created in the 1600s, perhaps by accident - a harvest delayed by threat of enemy invasion. In 1700, Tokaj became the first European region to have its vineyards classified, its uniquely varied terroirs and climates rated Primae Classis, Secundae Classis, Tertius Classis ("1st Growth, 2nd Growth, 3rd Growth") by Prince Rakoczi of Transylvania. This classification system is still used in Hungary today. Louis XIV of France (1638 - 1715) declared Tokaji "the wine of Kings and the King of wines", while in the 18th century, Catherine the Great stationed soldiers in Tokaj to protect her vineyards.
Quality production ended with World Wars I and II and the Communist takeover of Hungarian winemaking. Aszú grapes were used for mass production in factories, with vineyard distinctions lost in giant tanks. Tokaji's renaissance began after the collapse of communism with the Royal Tokaji Wine Company (RTWC) in 1989, inspired by well-known wine author, Hugh Johnson, and others. RTWC's founders started the winery in an effort to preserve what they considered a dying art. "I couldn't resist bringing back to life a wine that had been so renowned centuries ago," says Johnson.
Best known for lusciously sweet dessert wines but also home to distinctive dry whites and reds, Hungary is an exciting country at the crossroads of tradition and innovation. Mostly flat with a continental climate, Hungary is almost perfectly bisected by the Danube River (known here as the Duna), and contains central Europe's largest lake, Balaton. Soil types vary throughout the country but some of the best vines, particularly in Tokaj, are planted on mineral-rich, volcanic soil.
Tokaj, Hungary's most famous wine region, is home to the venerated botrytized sweet wine, Tokaji, produced from a blend of Furmint and Hárslevelű. Dry and semi-dry wines are also made in Tokaj, using the same varieties. Other native white varieties include the relatively aromatic and floral, Irsai Olivér, Cserszegi Fűszeres and Királyleányka, as well as the distinctively smoky and savory, Juhfark. Common red varieties include velvety, Pinot Noir-like Kadarka and juicy, easy-drinking Kékfrankos (known elsewhere as Blaufränkisch).
With hundreds of white grape varieties to choose from, winemakers have the freedom to create a virtually endless assortment of blended wines. In many European regions, strict laws are in place determining the set of varieties that may be used, but in the New World, experimentation is permitted and encouraged. Blending can be utilized to enhance balance or create complexity, lending different layers of flavors and aromas. For example, a variety that creates a soft and full-bodied wine would do well combined with one that is more fragrant and naturally high in acidity. Sometimes small amounts of a particular variety are added to boost color or aromatics. Blending can take place before or after fermentation, with the latter, more popular option giving more control to the winemaker over the final qualities of the wine.
ZZZREFPRODUCT255313
Item#
255313