Royal Tokaji The Oddity Furmint 2015
Ships today if ordered in next 4 hours
Limit
0
bottles
per customer
Winemaker Notes
#29 wine in VinePair's Top 50 of 2018
The Oddity is a crisp wine with lovely acidity. It is complex, elegant and balanced, exhibiting plenty of fruit on the nose and palate.
The Oddity can be enjoyed by the glass with a bowl of olives; it partners well with dishes with chili and warm spices as well ascream sauces or garlic. Royal Tokaji has experimented with many tastes and finds this to be a most agreeable food wine, particularly if you are eating Asian food — perfection.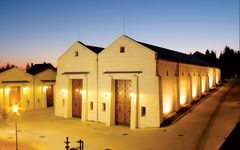 The first Tokaji Aszú (toh-KAY ah-SOO) wine was created in the 1600s, perhaps by accident - a harvest delayed by threat of enemy invasion. In 1700, Tokaj became the first European region to have its vineyards classified, its uniquely varied terroirs and climates rated Primae Classis, Secundae Classis, Tertius Classis ("1st Growth, 2nd Growth, 3rd Growth") by Prince Rakoczi of Transylvania. This classification system is still used in Hungary today. Louis XIV of France (1638 - 1715) declared Tokaji "the wine of Kings and the King of wines", while in the 18th century, Catherine the Great stationed soldiers in Tokaj to protect her vineyards.
Quality production ended with World Wars I and II and the Communist takeover of Hungarian winemaking. Aszú grapes were used for mass production in factories, with vineyard distinctions lost in giant tanks. Tokaji's renaissance began after the collapse of communism with the Royal Tokaji Wine Company (RTWC) in 1989, inspired by well-known wine author, Hugh Johnson, and others. RTWC's founders started the winery in an effort to preserve what they considered a dying art. "I couldn't resist bringing back to life a wine that had been so renowned centuries ago," says Johnson.
Best known for lusciously sweet dessert wines but also home to distinctive dry whites and reds, Hungary is an exciting country at the crossroads of tradition and innovation. Mostly flat with a continental climate, Hungary is almost perfectly bisected by the Danube River (known here as the Duna), and contains central Europe's largest lake, Balaton. Soil types vary throughout the country but some of the best vines, particularly in Tokaj, are planted on mineral-rich, volcanic soil.
Tokaj, Hungary's most famous wine region, is home to the venerated botrytized sweet wine, Tokaji, produced from a blend of Furmint and Hárslevelű. Dry and semi-dry wines are also made in Tokaj, using the same varieties. Other native white varieties include the relatively aromatic and floral, Irsai Olivér, Cserszegi Fűszeres and Királyleányka, as well as the distinctively smoky and savory, Juhfark. Common red varieties include velvety, Pinot Noir-like Kadarka and juicy, easy-drinking Kékfrankos (known elsewhere as Blaufränkisch).
The fragrant, savory and spicy, Furmint, is the white grape variety principally responsible for the highly desired, historically important and lusciously sweet, elixir called Tokaji. The wine called Tokaji is named after the Hungarian region from which it comes: Tokaj.
Furmint is most widely grown in Hungary. It is especially subject to noble rot, aka botrytis, a desirable fungus that can grow on grapes in humid environments after extended hang times. (The same fungus produces Sauternes and some of the finer dessert Rieslings of Germany). Aside from the grapes' own interesting, innate flavors and aromas, botrytis infected Furmint grapes have ephemeral qualities reminiscent of ginger, saffron and honey.
To make Tokaji, Furmint is usually blended with the more aromatic grape varieties of Hárslevelű and Muscat blanc à Petits Grains (locally called Sárga Muskotály). The result is an incredibly sweet, meditative, delicious Tokaji Aszú or the even sweeter Tokaji Eszencia. The latter contains so much sugar that it is served in half ounce portions and has an aging capacity of 200 years!
More recently the motivations of proud, young Hungarian winemakers have brought Furmint into a new light as a delicately crisp, savory and spicy, dry white.
YNG163376_2015
Item#
167976