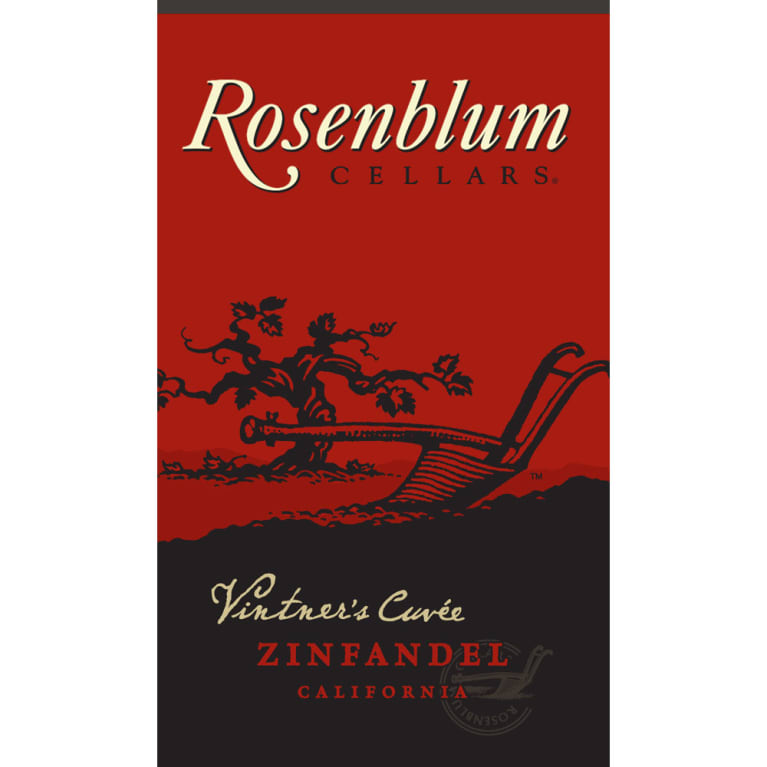 Rosenblum Cellars Vintners Cuvee XXXVII Zinfandel
Winemaker Notes
Featuring fruit-forward approachability, Rosenblum Cellars' Zinfandel Cuvée XXXII opens with aromas of bright raspberry, dark cherry and plum, gently dusted with notes of mocha and spice. Smooth and supple, the red stone fruits persist across the middle, joined by well-balanced acids and round tannins. The pleasant cherry elements continue through the long, sweet finish.
Pop the cork and enjoy this straightforward wine with dishes ranging from pasta to grilled flank steak.
Blend: 79% Zinfandel, 21% Petite Sirah
In 1978, Rosenblum Cellars opened in Alameda, California; a place known more for its docks and shipyards than for winemaking. But then again, Kent Rosenblum, "The King of Zin," always did things a little differently from the status quo.
When most of the established wineries in California were focused on their estate-grown wines, Kent chose to explore some of the unrecognized and underappreciated grape-growing areas of Northern California. He met families who had been growing grapes for generations; dedicated growers passionate about their vineyards, who worked tirelessly to grow the best grapes possible from old vines their families had planted years before.
Their efforts showcased the difference between mountainside and valley floor grapes, the importance of soil types and their influence on the taste of a wine. Kent was fascinated by the character and complexity of the Zin grapes produced by these old vines, and was determined to capture this spirit in a bottle.
Kent took grapes back to Alameda and began to make wines, acknowledging the contributions of his friends by placing the vineyard's name on the bottle. Working out of a factory building near the docks, Kent and his crew looked more like longshoremen than winemakers. But the wine they made spoke for itself.
From single-vineyards in Sonoma and Alexander Valley to strictly selected regional blends, Rosenblum has made more than 50 Zinfandels earning 90 or more points from Wine Spectator. It's an eye-opening track record for Zin lovers, but at Rosenblum, guided by commitment and craft, delivering sumptuous wines is just business as usual.
A major force on the global playing field, California is the world's fourth largest wine-producing region on the planet and the majority of land under vine here is devoted to red varieties, covering nearly double the vineyard acreage of whites.
While the state's incredibly diverse terrain and microclimates allow for countless red wine styles, the one factor unifying all California red wine is the abundance of sunshine and a long, consistent growing season, which leads to well-developed and fully ripened fruit.
The most famous region today, of course, is the acclaimed Napa Valley, where Cabernet Sauvignon reigns as king.
Sonoma County, nestled between Napa Valley and the Pacific Ocean, claims great variability in geography and microclimates. Here world-class Pinot Noir is possible from Sonoma's cooler sites while old, gnarly Zinfandel vines survived Prohibition.
The Central Coast, Lodi and the Sierra Foothills also excel in the production of Zinfandel, Cabernet Sauvignon and remain active frontiers for newer varieties, namely Rhône and Spanish.
The cool Anderson Valley in California's North Coast region is a fantastic source of Pinot noir.