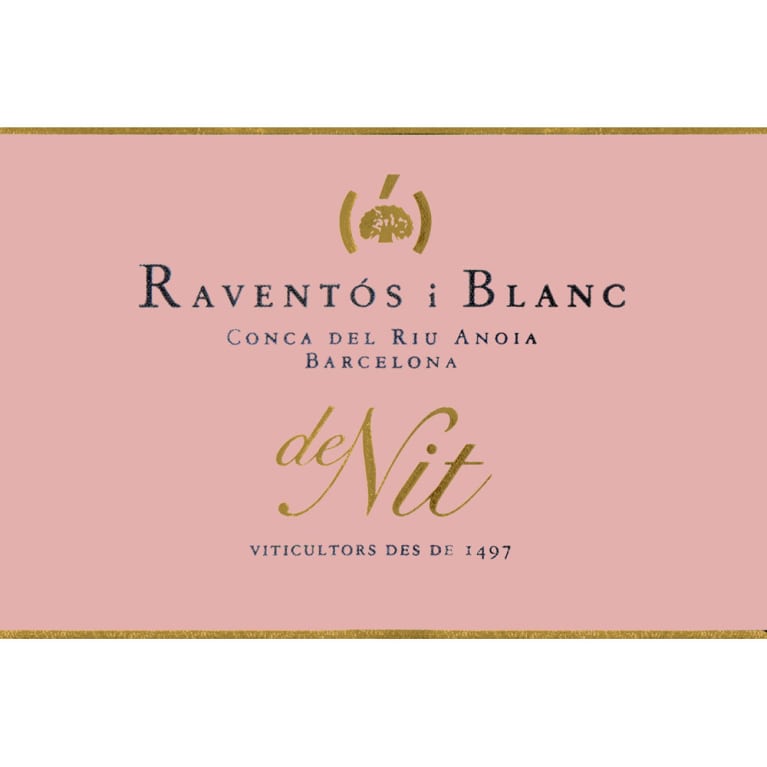 Raventos i Blanc Blanc de Nit Rose 2014
Currently Unavailable

$25.99
Ships Tomorrow
Limit
0
bottles
per customer
Winemaker Notes
light citrus, red flowers, white fruit, and a touch of cassis. The clean, direct sensation of the nose changes radically in the mouth where it combines a smooth, voluminous and fruity texture with a pleasant freshness and fine bubbles. Driven by a very good balance, with low dosage.
Raventos i Blanc was founded in 1986 by Josep-Maria Raventos, a member of the Codorníu family who wished to create a small, quality-oriented winery that would stand apart from the large co-ops in the area. Today they own about 300 acres of vineyards (with a high percentage of Chalk in the soil, like Champagne) planted mostly to local varieties such as Macabeo (Viura), Xarel-lo and Parellada. All three of these grapes are found in the excellent value Brut "L'Hereu".
Raventos i Blanc is the only Cava producer to estate grow and estate bottle all of their Cavas. The grapes are biodynamically farmed and certified by the Catalan Integrated Production Council (CCPI). The Cavas are found on such 3 star Michelin restaurants as El Bulli and Arzak, and represent the highest quality in Cava and an incredible value in sparkling wine.
A superior source of white grapes for the production of Spain's prized sparkling wine, Cava, the Penedes region is part of Catalunya and sits just south of Barcelona. Medio Penedès is the most productive source of the Cava grapes, Macabeo, Xarel-lo, and Parellada. Penedes also grows Garnacha and Tempranillo (here called Ull de Llebre in Catalan) for high quality reds and rosès.
What are the different types of Champagne and sparkling wine?
Beloved for its lively bubbles, sparkling wine is the ultimate beverage for any festivity, whether it's a major celebration or a mere merrymaking of nothing much! Sparkling wine is made throughout the winemaking world, but only can be called "Champagne" if it comes from the Champagne region of France and is made using what is referred to as the "traditional method." Other regions have their own specialties—Crémant in other parts of France, Cava in Spain and Prosecco in Italy, to name a few. New World regions like California, Australia and New Zealand enjoy the freedom to make many styles, with production methods and traditions defined locally. In a dry style, Champagne and sparkling wine goes with just about any type of food. Sweet styles are not uncommon and among both dry and sweet, you'll find white, rosé—or even red!—examples.
How is Champagne and sparkling wine made?
Champagne, Crémant, Cava and many other sparkling wines of the world are made using the traditional method, in which the second fermentation (the one that makes the bubbles) takes place inside the bottle. With this method, spent yeast cells remain in contact with the wine during bottle aging, giving it a creamy mouthful, toasted bread or brioche qualities and in many cases, the capacity to age. For Prosecco, the carbonation process usually occurs in a stainless steel tank (before bottling) to preserve the fresh fruity and floral aromas imminent in this style.
What gives Champagne and sparkling wine its bubbles?
The bubbles in sparkling wine are formed when the base wine undergoes a secondary fermentation, which traps carbon dioxide inside the bottle or fermentation vessel.
How do you serve Champagne and sparkling wine?
Ideally for storing Champagne and sparkling wine in any long-term sense, it should be at cellar temperature, about 55F. For serving, cool Champagne and sparkling wine down to about 40F to 50F. (Most refrigerators are colder than this.) As for drinking Champagne and sparkling wine, the best glasses have a stem and flute or tulip shape to allow the bead (bubbles) to show.
How long does Champagne and sparkling wine last?
Most sparkling wines like Prosecco, Cava or others around the "$20 and under" price point are intended for early consumption. Wines made using the traditional method with extended cellar time before release can typically improve with age. If you are unsure, definitely consult a wine professional for guidance.
SKRSRB119_2014
Item#
162548