Pinhook Rye Munny High Proof Straight Rye Whiskey 2022
Out of Stock

(was $69.97)
Distiller Notes
With limited annual releases comprising a small selection of their finest barrels, Pinhook's High Proof Rye is blended for whiskey enthusiasts and connoisseurs to get the best whiskey from those barrels, rather than the same one that's come before. Every vintage is bottled close to cask strength, at a proof chosen to maximize complex flavors and integrate them with the alcohol for a long and balanced finish. Like all of our whiskeys, it is bottled unfiltered.
Bottled just under cask strength, the 2022 High Proof Rye opens with a soft and fragrant nose of orange blossom, honeysuckle, green apple, and baking spice, leading to a rich palate of walnuts, dates, spiced caramel, and white pepper.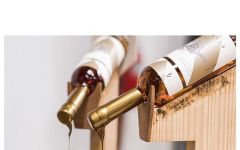 Blended and proofed to be different.
Each year, Pinhook releases a new vintage of bourbon and rye in a variety of expressions. Every vintage is the best representation of our barrels at that moment in time and dedicated to a promising young thoroughbred. Through a combination of careful barrel selection, blending in small batches, and
meticulous proofing, each Pinhook vintage has a personality as unique as the horse on the label.  Breaking with the standard approach to American whiskey, where barrels are blended to create a consistent flavor profile at a fixed proof each time, Pinhook sees each set of barrels as a new crop, shaped by the natural variations in the ingredients and the lements. Working in small batches, we craft each vintage to express the best whiskey rather than the same whiskey and set the proof to optimize the attributes of that year's crop.
The name Pinhook comes from the old Kentucky term for buying baby thoroughbreds, holding them while they mature, and selling when they are ready to run.  Successful pinhooks – much like whiskey -- are made on instinct, experience, an appreciation of quality, a little luck and a lot of patience. The brand pays tribute to the parallels between horse racing and bourbon, with bottles inspired by the bright colors and bold geometry of jockey's silks and portraits of the up-and-coming thoroughbreds on the label.
Pinhook got its start in 2011 with the purchase of 20 barrels of bourbon distilled by Master Grain Products (MGP) and began releasing very small batches in 2014. When Castle & Key embarked on its restoration of the abandoned Colonel E.H. Taylor distillery in Frankfort, Kentucky, Pinhook came on board. All Pinhook barrels are now aged, blended and bottled there, and since Castle & Key's stills came in line in 2017, Pinhook has been distilling proprietary mashbills of bourbon and rye there as well.
Known for its peppery, spicy bite, Rye serves as the ideal base for cocktails like the Sazerac, Manhattan or Old Fashioned. In order for a spirit to be labeled an American Rye Whiskey, the mash bill must be comprised of at least 51% rye grain. The remainder of the mash is most often a combination of malted barley, wheat or corn. After distillation is complete, the spirit is transferred to unused, charred white oak barrels for a minimum of two years, though many producers choose to age longer.
PCE222073_2022
Item#
1250494