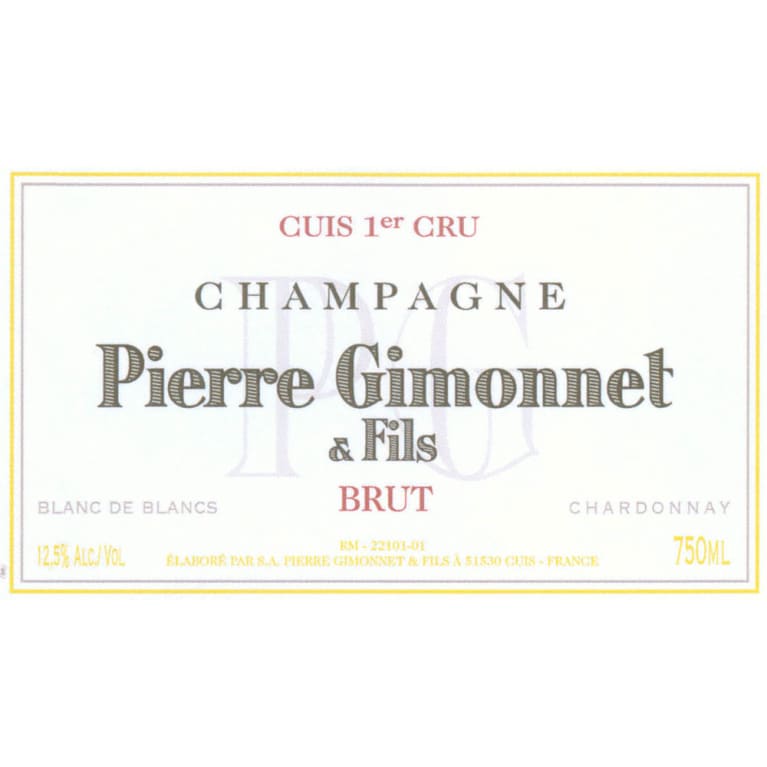 Pierre Gimonnet Cuis Blanc de Blancs Brut
Ships Sun, May 23
Limit
0
bottles
per customer
Winemaker Notes
Lively, aerial, not measured, technically perfect... This Cuvee Brut sans annee Cuis 1er Cru represents the archetype style of the Pierre Gimonnet & Fils.
One appreciates this classic assembly "without year", a consistent taste, for its vivacity, its lightness, and its fineness: the whole purity of the Great Chardonnays of the Côte des Blancs.
Critical Acclaim
All Vintages
Firm and well-knit, this lacy version offers a subtle mix of Dijon pear, smoke, fleur de sel, fresh ginger and slivered almond notes.
100% Chardonnay. Didier Gimonnet's aspiration for his entry NV is a cuvée with attack on the front, roundness in the middle and crispness on the end. The singular expression of his home village of Cuis, it is softened with reserves of the previous year's blend, aged in magnums. The result is the quintessential aperitif, and one of the most pristine Champagnes for its price. The north-facing elegance of this village lets fine salt-chalk minerality sing in harmony with crystalline acidity.
The wine is soft and rounded although unmistakably from Chardonnay in the chalky Côte des Blancs. Crisp apples have a light creaminess as well as lively acidity. Coming from Premier Cru vineyards, it shows a strongly mineral character that is filled out by the ripe fruitiness.
I tasted two different versions of Gimonnet's signature NV Cuis 1er Cru Brut Blanc de Blancs earlier this year; both were excellent as usual. The most recent disgorgement from January 2015 is based on the 2011 vintage (+ 22% Réserve wines), and is very pure, lovely, fresh and delicate on the typically intense, chalky/mineral, well balanced and elegant palate. The lighthearted yet quite complex wine was disgorged with a dosage of 6.5 grams per liter. The forerunner, based on 2008 and disgorged in October 2014, was even finer and provided with a very god length.
Rating: 90+
View More
Since before 1750 the Gimonnet family have been vine growers in the village of Cuis, supplying the great Champagne houses with grapes up until the 1930's recession. As the sales of grapes fell during this prolonged recession, Monsieur Pierre Gimonnet finally decided to take up the challenge of vinifying and commercializing his own harvest. It was a great struggle at first, establishing a clientele who were not, at that time, accustomed to "blanc de blancs" Champagnes, not least from a new small independent producer. The effort finally paid off and today the name of Champagne Pierre Gimonnet et Fils is one of great renown, and highly respected. Pierre Gimonnet built this reputation on the base of his unique and exceptional vineyard, half a century of experience and the uncompromising standards that he imposed upon himself. The estate is now run by Pierre's sons, Michel and Didier, who share the fanaticism of their father for the Gimonnet Champagnes. In 1987 the Gimonnet family acquired the house of Larmandier Père et Fils based in Cramant. This brought some exceptional vineyards to the Gimonnet enterpise. Although the Larmandier wines are vinified at the Gimonnet cellars in Cuis the cuvées are vinified and aged seperately. Consequently some remarkable Champagnes are produced from the Cramant Grand Cru vineyards, especially the outstanding Larmandier Cramant Grand Cru Blanc de Blancs and the exquisite Cramant Grand Cru Special Club.The policy of the estate, from the very beginning, in the true traditions of all great wine makers was to limit the production of grapes in the search of quality, with the ambition to become one of the great specialists of "blanc de blancs" Champagnes.
Associated with luxury, celebration, and romance, the region, Champagne, is home to the world's most prized sparkling wine. In order to bear the label, 'Champagne', a sparkling wine must originate from this northeastern region of France—called Champagne—and adhere to strict quality standards. Made up of the three towns Reims, Épernay, and Aÿ, it was here that the traditional method of sparkling wine production was both invented and perfected, birthing a winemaking technique as well as a flavor profile that is now emulated worldwide.
Well-drained, limestone and chalky soil defines much of the region, which lend a mineral component to its wines. Champagne's cold, continental climate promotes ample acidity in its grapes but weather differences from year to year can create significant variation between vintages. While vintage Champagnes are produced in exceptional years, non-vintage cuvées are produced annually from a blend of several years in order to produce Champagnes that maintain a consistent house style.
With nearly negligible exceptions, . These can be blended together or bottled as individual varietal Champagnes, depending on the final style of wine desired. Chardonnay, the only white variety, contributes freshness, elegance, lively acidity and notes of citrus, orchard fruit and white flowers. Pinot Noir and its relative Pinot Meunier, provide the backbone to many blends, adding structure, body and supple red fruit flavors. Wines with a large proportion of Pinot Meunier will be ready to drink earlier, while Pinot Noir contributes to longevity. Whether it is white or rosé, most Champagne is made from a blend of red and white grapes—and uniquely, rosé is often produce by blending together red and white wine. A Champagne made exclusively from Chardonnay will be labeled as 'blanc de blancs,' while ones comprised of only red grapes are called 'blanc de noirs.'
A term typically reserved for Champagne and Sparkling Wines, non-vintage or simply "NV" on a label indicates a blend of finished wines from different vintages (years of harvest). To make non-vintage Champagne, typically the current year's harvest (in other words, the current vintage) forms the base of the blend. Finished wines from previous years, called "vins de reserve" are blended in at approximately 10-50% of the total volume in order to achieve the flavor, complexity, body and acidity for the desired house style. A tiny proportion of Champagnes are made from a single vintage.
There are also some very large production still wines that may not claim one particular vintage. This would be at the discretion of the winemaker's goals for character of the final wine.