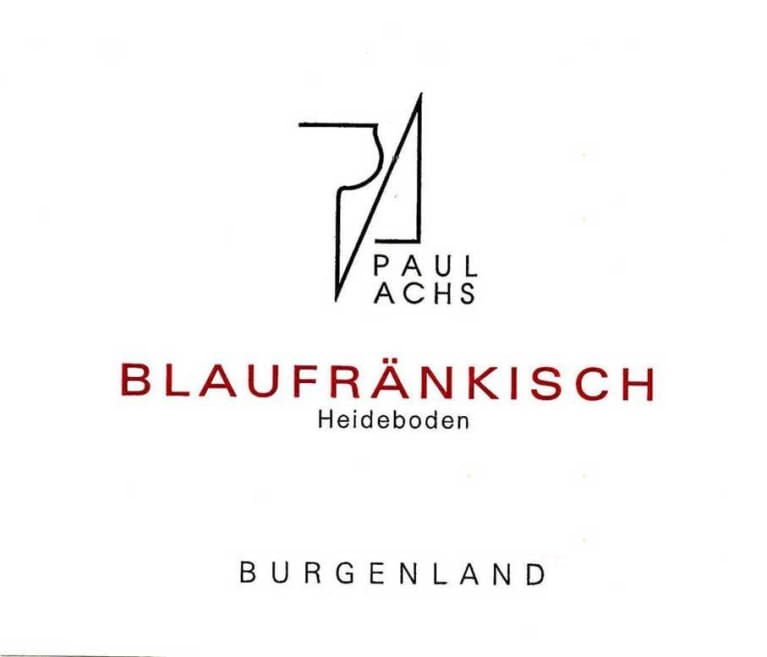 Paul Achs Heideboden Blaufrankisch 2016
Ships Sun, May 16
Limit
0
bottles
per customer
Winemaker Notes
Well-drained soil and the warm Pannonian climate gives Blaufränkisch Heideboden a ripe and generous fruit character while also being approachable and easy to drink. The wine is both ripe and savory with ripe black fruit, orange zest, and minerals and with no taste of wood despite 12 months aging in used barrels.
Neighboring Hungary influences Burgenland's cuisine, and it's not unusual to find dishes like goulash or stuffed peppers in the region, all liberally spiced with paprika. Burgenland's red wines are well-suited to complement these hearty and spicy flavors but offer broad versatility at the table thanks to its firm acidity and savory character.
Paul's vineyards of are found in two main areas near Gols, a small winemaking village located in the Neusiedlersee district of Austria's Burgenland region. Heideboden, a flat and gravelly area between Gols and the lake, is a consistent source of fresh and easy-drinking red wines. The second area is the Parndorfer Platte, a south-facing escarpment of complex soils situated near the villages of Gols and Mönchoff. The Parndorfer Platte is the source of three single-vineyard Blaufränkisch: Ungerberg, Altenberg, and Spiegel. Here, the diversity of soil combines with a southern exposure to give wines of profound expression and longevity. Paul Achs joined the Respekt biodynamic group in 2006 and farms all 25 hectares biodynamically. Yields are limited to 35 hectoliters per hectare, and the wines age in small and large oak barrels. Heideboden, the basic Blaufränkisch, and Edelgrund, a single-vineyard Blaufränkisch from the Heideboden area with 30-year-old vines, are aged in used oak barrels. The Blaufränkisch single vineyards typically see between 10-30% new oak. Ungerberg is a 3-hectare site on sandy loam. Altenberg is made only in top vintages and is from gravel and fossil limestone. Spiegel, a flatter vineyard with chalky soils, gives a particularly powerful Blaufränkisch. 
Fog and humidity arise from the Neusiedlersee (lake), and extend over the wet flatlands region of the same name, all the way to Austria's border with Hungary. This moisture, coupled with the daily sunshine that reflects from its wet surfaces, serves as the perfect environment for the development of the desirable fungus called, Botrytis cinerea.
This fungus causes the grapes to essentially "rot" and dry, concentrating their sugars for harvest. It also helps the grapes develop intricate phenolic complexities leading to some of the most sought-after and unique sweet wines in the world. Austrian law categorizes these botrytized, sweet wines according to the must weight (sugar concentration) at harvest in the same way as the Germans. So the wines will be labeled, Auslese, Beerenauslese, Trockenbeerenauslese and Eiswein.
While the region's reputation has historically ridden on the success of its sweet, botrytized wines, in 2011, Austria granted the official appellation of origin, Neusiedlersee, to its high quality Zweigelt red wines. As a result, any of its prestigious sweet wines will be actually be labeled after the general region of Burgenland.
Neusiedlersee's slopes of mica, schist, limestone and variations in gravel, sand and clay make it ideal for its indigenous red varieties, Blaufränkisch, St. Laurent and Zwiegelt, as well as the international varieties of Pinot Noir (Blauburgunder), Merlot, Cabernet and even Syrah.
Though not widely planted here, some white wines, such as Pinot Blanc (Weissburgunder), have distinguished themselves locally.
Inky magenta with aromas of violets, herbs and spices, Blaufrankisch first appeared in Austria in the 18th century and today is the second most planted red variety in Austria after its own offspring, Zweigelt. Blaufrankisch thrives in the warmer Austrian zones and while most of the global acreage remains here, the variety has travelled a bit outside of its homeland. Somm Secret—In pre-Medieval times grapes were divided into superior quality, those whose origins lay with the Franks, called "Frankisch," and all others, which were deemed inferior. This well-revered grape took the name, blau (meaning blue or dark) plus, "Frankisch," or Blaufrankisch.
STC382451_2016
Item#
526903