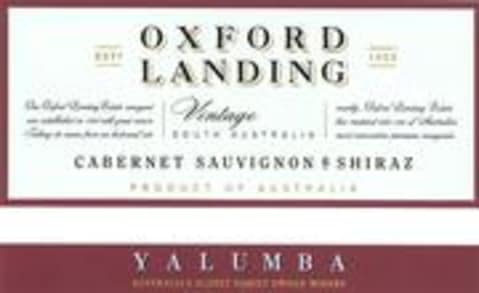 Oxford Landing Cabernet-Shiraz 2000
Winemaker Notes
This is a creative wine style for which Australia is becoming increasingly known. Cabernet Sauvignon provides the weight and structure essential for cellaring while Shiraz fills out the middle palate and contributes the richness required for enjoyable immediate drinking.
At Oxford Landing, we like to 'keep it real'. That means maintaining a sense of perspective and recognising what really matters. Remembering where we came from and being proud of our roots. And making wines that are a true reflection of the place they come from. Many of the famous wine regions of Europe are planted around great rivers. The Gironde in Bordeaux, the Tain in the Rhone Valley and the Rhine and Mosel Rivers in Germany. In Australia, we have the Murray River. Set on the banks of South Australia's majestic Murray River, the Oxford Landing vineyard is named after a nearby site where an old paddle steamer called 'The City of Oxford' met with an untimely end. Drovers once grazed and watered sheep here but today it's home to a loyal flock of down-to-earth folk who take great pride in making quality wines, enjoyed the world over. With 650 acres under vine, we could never call Oxford Landing small but we act like we are. We micro-manage 130 five-acre blocks as separate ecosystems so we become intimately familiar with each block and can give the grapes exactly what they need to achieve optimum flavour. 'Small vineyard' techniques such as detailed pruning, canopy management and crop thinning give us ultimate control in expressing the individuality of each block. And we are nimble enough to harvest small batches of the fruit as soon as it ripens, so not an ounce of freshness is lost. The 'small scale' approach continues in the winery with methods usually reserved for boutique winemaking. These include using wild ferments native to the vineyard and back-blending with barrel-aged wines. Minimal handling of the juice also means less chance for error or contamination, so the fruit is processed gently yet quickly. Thinking small does make a lot more work for us, but we take pride in working hard to craft quality wine. Every one of our wines is bottled at our winery in Australia. By nurturing the wine every step along the journey from bunch to bottle we can guarantee the authenticity, provenance, quality and consistency of every wine, every day. We put our heart and soul into every bottle of wine we make so there's no way we would entertain the variances and vagaries of bulk shipping and offshore bottling.
South Australia is the historic heart of Australian wine, a great wine capital of the world, and home to some of the most famous regions. It produces more than 80% of Australia's premium wine from some of the oldest vines in the world. There is an abundance of varieties and wide spectrum of styles to explore. From the rogue to refined, discover Australian wines that are far from ordinary.
With hundreds of red grape varieties to choose from, winemakers have the freedom to create a virtually endless assortment of blended wines. In many European regions, strict laws are in place determining the set of varieties that may be used, but in the New World, experimentation is permitted and encouraged. Blending can be utilized to enhance balance or create complexity, lending different layers of flavors and aromas. For example, a variety that creates a fruity and full-bodied wine would do well combined with one that is naturally high in acidity and tannins. Sometimes small amounts of a particular variety are added to boost color or aromatics. Blending can take place before or after fermentation, with the latter, more popular option giving more control to the winemaker over the final qualities of the wine.
SOU37860_2000
Item#
45467