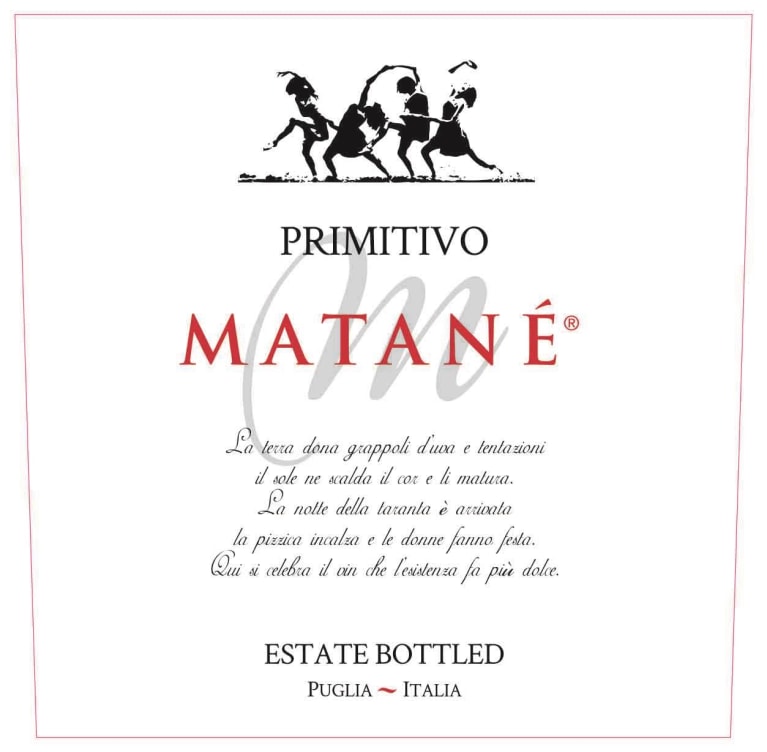 Matane Primitivo Puglia 2021
Winemaker Notes
Ruby red color, with a pleasant bouquet of fresh red fruits. The palate is smooth but with a nice and gentle acidity that balances and softens the sweet finish typical of the grapes.
Neil and Maria Empson have been selecting Italy's finest wines for over thirty-six years. In February 2007, they were joined by their daughter, Tara Smeralda, fresh from her studies and a course in wine tasting at the Associazone Italiana Sommeliers. Exactly one year later, the family visited some friends in the Salento peninsula, the southernmost portion of Puglia and Italy's easternmost area: a land – geographically and culturally – of extremes and dramatic beauty, stretching out between two seas. Here, the Empsons fell in love with the dazzling, colorful landscape: lush, dark red soil bathed in Mediterranean sunlight and constantly windswept by the salty air currents of the Adriatic and Ionian seas. This amazing palette of colors and sensations nurtures superb old vineyards and native varieties.
When Neil, Maria and Tara tasted the silky, seductive, structured reds crafted by Filippo Baccalaro for Valentino Sciotti, the Matané project (from Maria, Tara & Neil) began to take shape. It was then that a joint venture was decided between the Empsons, Valentino and Filippo. When Neil & Maria began pioneering Italy's fine wine exports, the Italian potential had barely been recognized, much less explored. Today, something very like that pioneering spirit has inspired Matané. This exciting new project promises to explore, enhance and export the richness and excellence of Salento soil and its unique wines.
Italian Red Wine
While picturesque hillsides, endless coastlines and a favorable climate serve to unify the grape-growing culture of this country. The apparent never-ending world of indigenous grape varieties gives Italy an unexampled charm and allure for its red wines. From the steep inclines of the Alps to the sprawling, warm, coastal plains of the south, red grape varieties thrive throughout.
The kings of Italy, wines like Barolo and Barbaresco (made of Nebbiolo), and Chianti and Brunello di Montalcino (made of Sangiovese), as well as Amarone (mostly Corvina), play center stage for the most lauded, collected and cellar-worthy reds. Less popular but entirely deserving of as much praise are the wines made from Aglianico, Sagrantino and Nerello Mascalese.
For those accustomed to drinking New World reds, the south is the place to start. Grapes like Negroamaro or Primitvo from Puglia and Nero d'Avola from Sicily make soft, ammicable, full-bodied, fruit-dominant wines. Curious palates should be on the lookout for Cannonau (Grenache), Lagrein, Teroldego, Ruché, Freisa, Cesanese, Schiopettino, Rossese and Gaglioppo to name a few.
WWH168884_2021
Item#
1136620