Masterson's 10 Year French Oak Finish Straight Rye Whiskey
Ships Tomorrow
Limit
0
bottles
per customer
Distiller Notes
An alluring almond-like Amber color. Standing out from all others on shelf. After ten years of aging, the whiskey is finished in fine grain French oak barrels for 30 days. These barrels were air dried outdoors for two or more years allowing the barrels to release more vanillin and reduces tannic astringency. French Oak is appreciated for its complexity and undeniable quality. On the nose you'll find green apple, fresh mint, vanilla, new leather, marigold and floral and earthy notes. You find similar notes on the palate with a delightfully unique taste hitting mid-palate due to the toasting technique of the French Oak barrel, of toasted vanilla, chestnut, tobacco and leather with a sustaining dry finish.
Proof: 90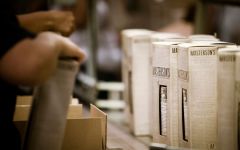 Masterson's: Gambler, buffalo hunter, army scout gunfighter and newspaperman, William 'Bat' Masterson did it all and did it well. What better way to honor such a rarefied man than with a truly exceptional whiskey. Crafted by artisans, distilled in a pot still and aged in white-oak casks for just over 10 years, it's the kind of drink that Bat would've surely raved about.
Masterson's is all rye and only rye, meeting the strict­est definition of traditional rye whiskey. The rye is grown in the verdant Pacific Northwest, and we choose only rye that exhibits the perfect combina­tion of weight, plumpness and rich, earthy fragrance. These key characteristics, along with our meticulous distillation process, give Masterson's its uniquely smooth taste.
Capturing a broad range in one category, American Whiskey refers to any spirit made in America by distilling a mash of fermented grains—typically corn, wheat, rye or barley. American Whiskey must be distilled to no more than 95% alcohol and bottled at 40% or higher. In order to be labeled a straight Whiskey, it also must be aged in white oak barrels for a minimum of two years and not contain any added colors or flavors.