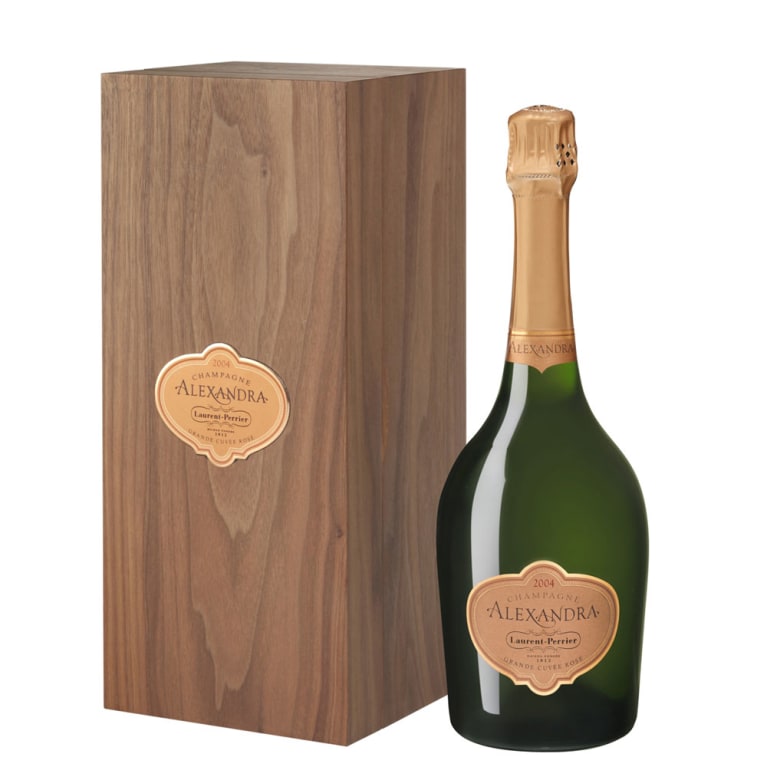 Laurent-Perrier Alexandra Rose in Wooden Gift Box 2004
Ships Wed, Oct 28
Limit
0
bottles
per customer
Winemaker Notes
A tasting of Alexandra Rose Millesime is one of those all-too-rare moments – a unique sensory experience. A delicate ring of bubbles circles the inside of the glass, enlivened by a fine, persistent stream of bubbles. The color register is anything but the usual shade of redcurrant or raspberry. Instead, what you see illuminating the lead-crystal glass is a diaphanous amber-pink.
The nose of deliciously satisfying aromas of candied citrus is amplified on the palate. Next, a strong sensation of minerality structures the palate and the wine releases its tensions to deliver a succession of taste sensations. The range is wide, moving from the smoothly spicy to hints of metal, tangy fruit, and dried rose petals. But despite the obvious complexity, the senses never lose their way in this uniquely pleasurable experience.
Alexandra Rosé Millésimé surrenders up its singular personality, which is simultaneously masculine in its intensity and its powerful structure, and feminine in the infinite delicacy of its color and taste sensations. The experience is unforgettable.
Critical Acclaim
All Vintages
First produced in the 1987 vintage to celebrate the marriage of owner Bernard de Nonancourt's eldest daughter, this bottling is now mature. Ripe, it still retains plenty of red fruits while also allowing the toasty character to show through. It's a rosé that calls for food, a rich and balanced wine that is just perfect to drink now
Michel Fauconnet macerates pinot noir and chardonnay together (an 80-20 blend), allowing the color of pinot's skins to tint the wine, while the chardonnay skins add to the wine's structure, tightening the red fruit in a delicate tannic vise. There's a wild mushroom savor to the wine, a gamey, woodland note and a minty crispness. Youthfully brash, then nuanced and satisfying, this is substantial enough for the dark meat of roast game birds.
Based on synced-fermented 80% Pinot Noir and 20% Chardonnay from company-owned grand cru vineyards, the salmon-pink colored 2004 Alexandra Grande Cuvée Rosé displays a very subtle and fresh bouquet of great elegance and purity. Intense and complex on the palate, this is a very dry, fresh and tension-filled Rosé full of energy and delicacy. Very elegant and still a bit limey, but a great Champagne.
Rich and creamy, showing candied kumquat and dried apricot flavors married to the lively bead and acidity, with accents of pastry, marzipan, coconut and spice. Drink now through 2029.
View More
Established in 1812, Champagne Laurent-Perrier has a long tradition of innovation in Champagne and can be credited with many of the ideas that have defined Champagne production since the mid 20th century. Laurent-Perrier was among the first to introduce stainless steel fermentation tanks to the region in the 1950s, resurrected the non-dosage Champagne category with the introduction of Ultra Brut in 1981, and sparked the revival of non-vintage rosé Champagne in 1968 despite the opinion of other producers that non-vintage rosés were not to be taken seriously. Today, Laurent Perrier's iconic Cuvée Rosé remains the benchmark for non-vintage rosé champagne. 
Laurent-Perrier has become one of the international leaders in Champagne based entirely on the quality of the wines and core values as a company. Laurent-Perrier is still a family-controlled business and makes nothing other than champagne. The house prides itself on quality and consistency, attributable to having only 3 chefs de caves since 1949.
Laurent-Perrier's house style emphasizes freshness, elegance, and finesse across its entire range of champagnes. None of the wines are aged in oak, and Laurent-Perrier makes fewer single-vintage wines than many other houses. The art of blending - not just of grapes but of years, as well - is fundamental to champagne. At Laurent-Perrier, even our prestige cuvée Grand Siècle is never a single vintage wine, but always a blend of three complementary vintage years, essentially "creating" the perfect year. 
Associated with luxury, celebration, and romance, the region, Champagne, is home to the world's most prized sparkling wine. In order to bear the label, 'Champagne', a sparkling wine must originate from this northeastern region of France—called Champagne—and adhere to strict quality standards. Made up of the three towns Reims, Épernay, and Aÿ, it was here that the traditional method of sparkling wine production was both invented and perfected, birthing a winemaking technique as well as a flavor profile that is now emulated worldwide.
Well-drained, limestone and chalky soil defines much of the region, which lend a mineral component to its wines. Champagne's cold, continental climate promotes ample acidity in its grapes but weather differences from year to year can create significant variation between vintages. While vintage Champagnes are produced in exceptional years, non-vintage cuvées are produced annually from a blend of several years in order to produce Champagnes that maintain a consistent house style.
With nearly negligible exceptions, . These can be blended together or bottled as individual varietal Champagnes, depending on the final style of wine desired. Chardonnay, the only white variety, contributes freshness, elegance, lively acidity and notes of citrus, orchard fruit and white flowers. Pinot Noir and its relative Pinot Meunier, provide the backbone to many blends, adding structure, body and supple red fruit flavors. Wines with a large proportion of Pinot Meunier will be ready to drink earlier, while Pinot Noir contributes to longevity. Whether it is white or rosé, most Champagne is made from a blend of red and white grapes—and uniquely, rosé is often produce by blending together red and white wine. A Champagne made exclusively from Chardonnay will be labeled as 'blanc de blancs,' while ones comprised of only red grapes are called 'blanc de noirs.'
What are the different types of Champagne and sparkling wine?
Beloved for its lively bubbles, sparkling wine is the ultimate beverage for any festivity, whether it's a major celebration or a mere merrymaking of nothing much! Sparkling wine is made throughout the winemaking world, but only can be called "Champagne" if it comes from the Champagne region of France and is made using what is referred to as the "traditional method." Other regions have their own specialties—Crémant in other parts of France, Cava in Spain and Prosecco in Italy, to name a few. New World regions like California, Australia and New Zealand enjoy the freedom to make many styles, with production methods and traditions defined locally. In a dry style, Champagne and sparkling wine goes with just about any type of food. Sweet styles are not uncommon and among both dry and sweet, you'll find white, rosé—or even red!—examples.
How is Champagne and sparkling wine made?
Champagne, Crémant, Cava and many other sparkling wines of the world are made using the traditional method, in which the second fermentation (the one that makes the bubbles) takes place inside the bottle. With this method, spent yeast cells remain in contact with the wine during bottle aging, giving it a creamy mouthful, toasted bread or brioche qualities and in many cases, the capacity to age. For Prosecco, the carbonation process usually occurs in a stainless steel tank (before bottling) to preserve the fresh fruity and floral aromas imminent in this style.
What gives Champagne and sparkling wine its bubbles?
The bubbles in sparkling wine are formed when the base wine undergoes a secondary fermentation, which traps carbon dioxide inside the bottle or fermentation vessel.
How do you serve Champagne and sparkling wine?
Ideally for storing Champagne and sparkling wine in any long-term sense, they should be at cellar temperature, about 55F. For serving, cool Champagne and sparkling wine down to about 40F to 50F. (Most refrigerators are colder than this.) As for drinking Champagne and sparkling wine, the best glasses have a stem and flute or tulip shape to allow the bead (bubbles) to show.
How long does Champagne and sparkling wine last?
Most sparkling wines like Prosecco, Cava or others around the "$20 and under" price point are intended for early consumption. Wines made using the traditional method with extended cellar time before release can typically improve with age. If you are unsure, definitely consult a wine professional for guidance.
STC486282_2004
Item#
136699