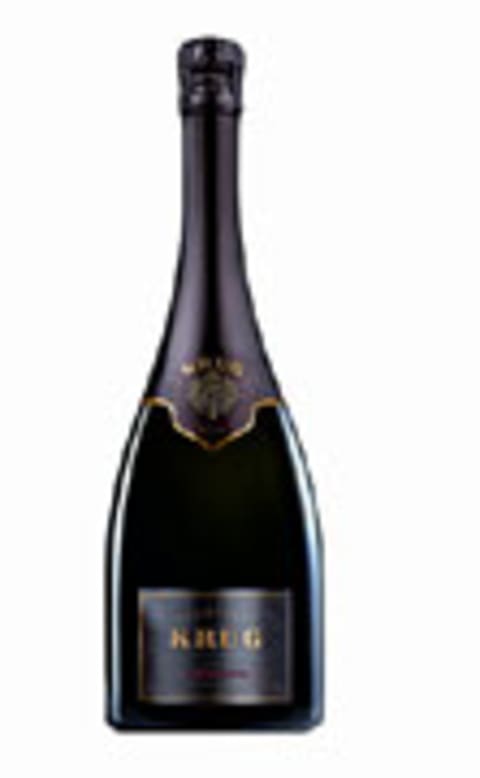 Krug Vintage Brut 1998
Ships Tue, Jul 30
Limit
0
bottles
per customer
Winemaker Notes
The 1996 vintage of this wine was ranked #10 on the Wine Spectator's Top 10 Wines of 2007
Krug Vintage is a statement – Krug's definitive, one-off interpretation of the character of an outstanding year. The blend contains wines exclusively from that year.
Characterized by the warm glow of yellow gold and the fragrant aroma of flowers in bloom, Krug 1998 is an enchanting champagne of astonishing purity and precision. From its creamy, caressing texture, through its full, finely balanced flavors, to its extraordinarily long finish, it is a study in harmony, delicate, refined, and captivating. Think notes of red berries, stewed fruit, brioche, almond, gingerbread, and citrus.
Critical Acclaim
All Vintages
This harmonious Champagne offers luxurious texture, aromatic accents of spring blossom, crushed thyme and chai, powerful, focused acidity and rich notes of lemon meringue, hazelnut, black currant and fresh porcini mushroom. The full package. Impressive. Drink now through 2028.
If you are a Krug classicist, this is your wine. There's nothing like it, other than prior great vintages of Krug (and perhaps the 2002, when that breaks away from the cellar). My notes on this wine are extensive, but the one word underlined is Kruggy: It has the power and stodgy brilliance of Krug. The depth of the wine is hard to describe, with ethereal quince and sweet spice providing sunniness to counter the gravitas of the structure. It brought to mind the crostini topped with uni and lardo at Marea in NYC—a dish that would bring out the layers of lime, lemon zest and shellfish broth in this wine. It would also match well with rich Lyonnaise cuisine, a foie gras terrine, duck confit...
Krug's 1998 Brut Vintage is an excellent choice for drinking today, as the classic Krug style is rich, alive and totally vivid. Honey, almonds, smoke, graphite and dried apricots are some of the many aromas and flavors found in this rich, enveloping Champagne. A wine of texture and depth, the 1998 impresses for its vinous personality and terrific balance. Lively veins of underlying acidity suggest the 1998 will drink well for many years to follow. This is one of the best bottles of the 1998 I have ever tasted. Anticipated maturity: 2012-2038.
View More
Since 1843, six generations of the Krug Family have been creating the finest and rarest Champagnes. Behind every precious drop of Krug stands the dream of a visionary. One man who, long before others, understood that the essence of Champagne is pleasure. So, over 170 years ago, Joseph Krug broke with convention to follow his vision: to create the most generous expression of Champagne every year, regardless of climatic unpredictability. Thanks to an uncompromising craftsmanship, a unique individual plot by plot approach from harvesting to blending, an unparalleled library of 150 reserve wines, and an exceptional cellar aging, Krug is the benchmark when it comes to the best champagnes in the world.
Krug Grande Cuvée is the flagship of the House and the archetype of Krug's philosophy of craftsmanship and savoir-faire: a blend of more than 120 wines from ten or more different years. Its exceptional finesse is the result of a stay of at least another six years in the cellars. Over twenty years are needed to craft each bottle of Krug Grande Cuvee.
Every year since the foundation of the House in 1843, one creation, one blend, one bottling and thus one new Edition of Krug Grande Cuvée has come to life. The number of the Edition is now featured on the front label, and this year we celebrate the 164th Edition.
Associated with luxury, celebration, and romance, the region, Champagne, is home to the world's most prized sparkling wine. In order to bear the label, 'Champagne', a sparkling wine must originate from this northeastern region of France—called Champagne—and adhere to strict quality standards. Made up of the three towns Reims, Épernay, and Aÿ, it was here that the traditional method of sparkling wine production was both invented and perfected, birthing a winemaking technique as well as a flavor profile that is now emulated worldwide.
Well-drained, limestone and chalky soil defines much of the region, which lend a mineral component to its wines. Champagne's cold, continental climate promotes ample acidity in its grapes but weather differences from year to year can create significant variation between vintages. While vintage Champagnes are produced in exceptional years, non-vintage cuvées are produced annually from a blend of several years in order to produce Champagnes that maintain a consistent house style.
With nearly negligible exceptions, three varieties are permitted for use in Champagne: Chardonnay, Pinot Noir, and Pinot Meunier. These can be blended together or bottled as individual varietal Champagnes, depending on the final style of wine desired. Chardonnay, the only white variety, contributes freshness, elegance, lively acidity and notes of citrus, orchard fruit and white flowers. Pinot Noir and its relative Pinot Meunier, provide the backbone to many blends, adding structure, body and supple red fruit flavors. Wines with a large proportion of Pinot Meunier will be ready to drink earlier, while Pinot Noir contributes to longevity. Whether it is white or rosé, most Champagne is made from a blend of red and white grapes—and uniquely, rosé is often produce by blending together red and white wine. A Champagne made exclusively from Chardonnay will be labeled as 'blanc de blancs,' while ones comprised of only red grapes are called 'blanc de noirs.'
Representing the topmost expression of a Champagne house, a vintage Champagne is one made from the produce of a single, superior harvest year. Vintage Champagnes account for a mere 5% of total Champagne production and are produced about three times in a decade. Champagne is typically made as a blend of multiple years in order to preserve the house style; these will have non-vintage, or simply, NV on the label. The term, "vintage," as it applies to all wine, simply means a single harvest year.