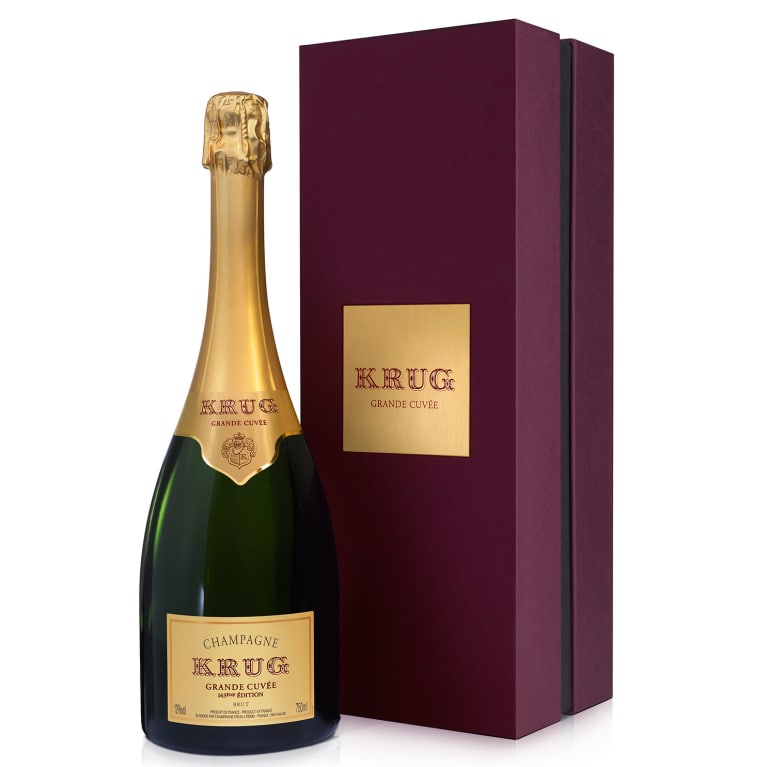 Krug Grande Cuvee Brut (163rd Edition) with Gift Box
Non-Vintage Sparkling Wine
from
Champagne, France
Ships Tomorrow
Limit
0
bottles
per customer
Add to Cart
Limit Reached
Winemaker Notes
This bottle belongs to the 163eme Edition of Krug Grande Cuvee and is an extraordinary blend of 183 wines from 12 different years, the oldest from 1990 and the youngest from 2007. Every glass of this bottle of Krug Grande Cuvee is the fruit of more than 20 years of patience and crafting.
As you taste it, notes of toasted bread, hazelnut, nougat, barley sugar and jellied fruits may take you by surprise. You may even taste hints of apples still on the tree, flowers in bloom, ripe and dried fruit, almonds, marzipan, gingerbread, sweet spices and even brioche and honey. You may also notice its exceptional freshness in the mouth, with rich and tangy flavors of lemon and grapefruit enhanced by the subtlety of its fine and elegant bubbles. Krug Grande Cuvee can age beautifully.
Krug Grande Cuvee lends itself to a plethora of culinary combinations, from the simplest to the most sophisticated, from an extra mature parmesan to a dish of turbot a la truffe.
Blend: 32% Chardonnay, 31% Meunier, 7% Pinot Noir
Critical Acclaim
All Vintages
A racehorse of a Champagne, this mouthwatering sparkler offers aromatic hints of toast and vanilla lacing the tightly knit profile of crème de cassis, ground coffee and mandarin orange peel flavors, with a long thread of anise and cardamom spice notes unraveling on the palate. This is like raw silk. Disgorged winter 2015 to 2016. Drink now through 2025.
The MV Grande Cuvée 166ème, based on the 2010 vintage, offers good depth, but it also comes across as a bit angular and in need of time in bottle to soften. Certainly, next to the 2008 and 2009 editions, the 2010 is a touch rough around the edges. Even so, there is good freshness and verve to the bright citrus, mineral and floral flavors.
View More
Since 1843, six generations of the Krug Family have been creating the finest and rarest Champagnes. Behind every precious drop of Krug stands the dream of a visionary. One man who, long before others, understood that the essence of Champagne is pleasure. So, over 170 years ago, Joseph Krug broke with convention to follow his vision: to create the most generous expression of Champagne every year, regardless of climatic unpredictability. Thanks to an uncompromising craftsmanship, a unique individual plot by plot approach from harvesting to blending, an unparalleled library of 150 reserve wines, and an exceptional cellar aging, Krug is the benchmark when it comes to the best champagnes in the world.
Krug Grande Cuvée is the flagship of the House and the archetype of Krug's philosophy of craftsmanship and savoir-faire: a blend of more than 120 wines from ten or more different years. Its exceptional finesse is the result of a stay of at least another six years in the cellars. Over twenty years are needed to craft each bottle of Krug Grande Cuvee.
Every year since the foundation of the House in 1843, one creation, one blend, one bottling and thus one new Edition of Krug Grande Cuvée has come to life. The number of the Edition is now featured on the front label, and this year we celebrate the 164th Edition.
Associated with luxury, celebration, and romance, the region, Champagne, is home to the world's most prized sparkling wine. In order to bear the label, 'Champagne', a sparkling wine must originate from this northeastern region of France—called Champagne—and adhere to strict quality standards. Made up of the three towns Reims, Épernay, and Aÿ, it was here that the traditional method of sparkling wine production was both invented and perfected, birthing a winemaking technique as well as a flavor profile that is now emulated worldwide.
Well-drained, limestone and chalky soil defines much of the region, which lend a mineral component to its wines. Champagne's cold, continental climate promotes ample acidity in its grapes but weather differences from year to year can create significant variation between vintages. While vintage Champagnes are produced in exceptional years, non-vintage cuvées are produced annually from a blend of several years in order to produce Champagnes that maintain a consistent house style.
With nearly negligible exceptions, three varieties are permitted for use in Champagne: Chardonnay, Pinot Noir, and Pinot Meunier. These can be blended together or bottled as individual varietal Champagnes, depending on the final style of wine desired. Chardonnay, the only white variety, contributes freshness, elegance, lively acidity and notes of citrus, orchard fruit and white flowers. Pinot Noir and its relative Pinot Meunier, provide the backbone to many blends, adding structure, body and supple red fruit flavors. Wines with a large proportion of Pinot Meunier will be ready to drink earlier, while Pinot Noir contributes to longevity. Whether it is white or rosé, most Champagne is made from a blend of red and white grapes—and uniquely, rosé is often produce by blending together red and white wine. A Champagne made exclusively from Chardonnay will be labeled as 'blanc de blancs,' while ones comprised of only red grapes are called 'blanc de noirs.'
A term typically reserved for Champagne and Sparkling Wines, non-vintage or simply "NV" on a label indicates a blend of finished wines from different vintages (years of harvest). To make non-vintage Champagne, typically the current year's harvest (in other words, the current vintage) forms the base of the blend. Finished wines from previous years, called "vins de reserve" are blended in at approximately 10-50% of the total volume in order to achieve the flavor, complexity, body and acidity for the desired house style. A tiny proportion of Champagnes are made from a single vintage.
There are also some very large production still wines that may not claim one particular vintage. This would be at the discretion of the winemaker's goals for character of the final wine.