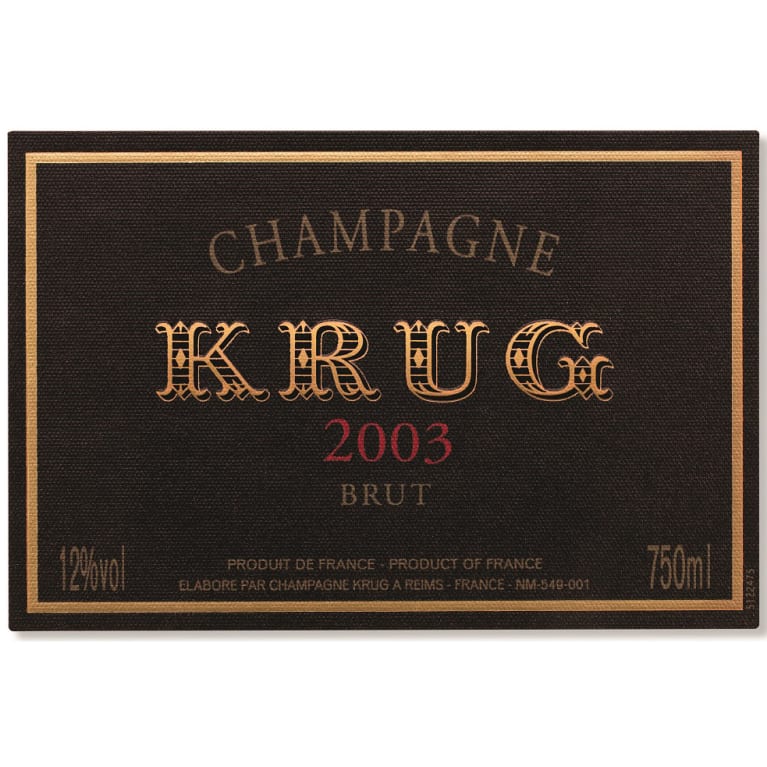 Krug Brut 2003
Out of Stock

(was $249.99)
Winemaker Notes
Krug decided to create a vintage for this particular year and named it "Vivacite Solaire" (Vivacious Radiance) to relate an unexpected story of a hot year that surprised Krug with fruit, freshness, balance, expressiveness, vivacity and finesse, all at the same time. Krug 2003 is only possible thanks to the unique, detailed approach of the House of Krug to creating Champagnes.
As with all Krug Champagnes, Krug 2003 will continue to gain with the passage of time.
Blend: 46% Pinot Noir, 29% Chardonnay, 25% Pinot Meunier
Critical Acclaim
All Vintages
Like taffeta in texture, this harmonious Champagne is finely honed and fresh. A wonderfully expressive version, with ample spice and graphite accents to the blackberry pate de fruit, coffee liqueur, dried apricot, singed orange peel and crystallized honey notes. Hard to stop sipping. Disgorged spring 2014. Drink now through 2028.
Looking very fresh and complex with plenty of richness and caramelized autolysis characters. Quite distinctively fragrant chardonnay notes of citrus, stone fruits and melon. It heads into spicy territory, very resolved and composed, with nutty, bready nuances and chalky notes. There?s trademark kaleidoscopic appeal. The palate has depth and composure with assertive acidity amid supple, fleshy chardonnay grapefruit and white-peach-sorbet flavors, plus lemon pith and nougat. Long, majestic, commanding, dark, nutty, red-grape flavors and phenolics drive the palate long. This suits the style and stacks up admirably.
When Krug announced they were producing a 2003 vintage there was universal surprise, given what a hot year it was in France. Yet the end result is very pleasant and impressive surprise. Indeed, having tasted this on two or three previous occasions, I noted an astonishing freshness and vivacity which was not remotely anticipated. However, this particular bottle was not as zingy as the ones I had previously encountered - instead, it was somewhat softer, fatter, rounder and more savoury in style. If the acidity was less prominent, it certainly wasn't lacking in flavour, presence or expression with its fresh cut hay and biscuit nose. The rich palate comprises cream, cashew nut, spice and brioche with sweet pear, quince and dried fruit. Deliciously long, gourmandise cappuccino finish. Drinking Window 2017 - 2025
This 2003 offers beautiful ripeness in its flavors of apples and pears bursting out of their skins, yet maintains a sense of elegance in the context of what is often a rustic vintage. Krug captured enough cool to contrast the heat of the season, and though the wine is heavier than a classic vintage, it is rich and integrated, with complex, smoky flavors that last.
View More
Krug has always lived up to its reputation as the first and only Champagne House to create exclusively prestige Champagnes every year since its foundation.
The House was established in Reims in 1843, by Joseph Krug, a visionary non-conformist with an uncompromising philosophy. Having understood that the true essence of Champagne is pleasure itself, his dream was to craft the very best Champagne he could offer, every single year, regardless of annual variations in climate. Paying close attention to the vineyard's character, respecting the individuality of each plot and its wine, as well as building an extensive library of reserve wines from many different years allowed Joseph Krug to fulfil his dream.
With a very original approach to Champagne making, he decided to go beyond the notion of vintage to create the most generous expression of Champagne, every year. Thus, he founded a House in which all Champagnes are of the same level of distinction.
Six generations of the Krug family have perpetuated this dream, enriching the founder's vision and savoir faire.
Further elaborating on the notion of individuality, for Krug's Cellar Master Julie Cavil, each plot of grapes, through its wine, is like a single ingredient to a chef: carefully selected, and critical to the final composition. Each year, Krug honors this philosophy by inviting chefs from around the world to interpret a single ingredient, crafting unexpected recipes to pair with a glass of Krug Grande Cuvée or Krug Rosé. This year's ingredient is the Onion.
The unspoken onion is a key component of almost every fundamental recipe from stocks, sauces and stews to baked goods and roasts. Its multifaceted expressions beautifully marry both the fullness of flavors and aromas of Krug Grande Cuvée the elegance and boldness of Krug Rosé. 
Krug X Music
The House of Krug has long sensed a link between sound and taste perception. Music and sound have the power to reveal a myriad of new dimensions through the sensorial experience that comes with every sip of Krug Champagne.
It is in this spirit and with this understanding that the House of Krug has developed a unique endeavor: Krug Music Pairings. Each year the House invites selected musicians, in whose standards of excellence it feels a kinship, to an extended tasting of its Champagnes. Inspired by what they taste, these artists select or create a special playlist custom-tailored to reflect what they felt and how they connected to the experience of Krug Champagnes. By associating Music with its Champagnes, the House continues its quest to enhance the tasting of Krug Champagnes while discovering new experiences.
Krug Encounters
The House of Krug presents Krug Encounters 2021, a fresh and exciting online immersive Music experience to connect Krug Lovers around the world. Krug Encounters will echo the non-conformist philosophy of the founder of the House, Joseph Krug.
Together with British Vocal Ensemble VOCES8 and Belgian Music pioneer, Ozark Henry, the House of Krug is taking its Music Pairings to the next level with multisensory digital experiences through which it will present the latest Édition of Krug Grande Cuvée.
Using standard headphones, binaural audio technology envelops guests in a groundbreaking audio space echoing Krug's unique craftsmanship. Unique voices mirror the individualities – characterful wines selected from specific plots and years – that compose this Champagne and convey the effects of climate conditions on these wines. The voices interact with each other and the musical scores to ultimately express the complete vocal symphony. In this way, guests will relive the story of Krug Grande Cuvée 169ème Édition in a completely new and memorable way that showcases the unique craftsmanship of Cellar Master Julie Cavil.
Associated with luxury, celebration, and romance, the region, Champagne, is home to the world's most prized sparkling wine. In order to bear the label, 'Champagne', a sparkling wine must originate from this northeastern region of France—called Champagne—and adhere to strict quality standards. Made up of the three towns Reims, Épernay, and Aÿ, it was here that the traditional method of sparkling wine production was both invented and perfected, birthing a winemaking technique as well as a flavor profile that is now emulated worldwide.
Well-drained, limestone and chalky soil defines much of the region, which lend a mineral component to its wines. Champagne's cold, continental climate promotes ample acidity in its grapes but weather differences from year to year can create significant variation between vintages. While vintage Champagnes are produced in exceptional years, non-vintage cuvées are produced annually from a blend of several years in order to produce Champagnes that maintain a consistent house style.
With nearly negligible exceptions, . These can be blended together or bottled as individual varietal Champagnes, depending on the final style of wine desired. Chardonnay, the only white variety, contributes freshness, elegance, lively acidity and notes of citrus, orchard fruit and white flowers. Pinot Noir and its relative Pinot Meunier, provide the backbone to many blends, adding structure, body and supple red fruit flavors. Wines with a large proportion of Pinot Meunier will be ready to drink earlier, while Pinot Noir contributes to longevity. Whether it is white or rosé, most Champagne is made from a blend of red and white grapes—and uniquely, rosé is often produce by blending together red and white wine. A Champagne made exclusively from Chardonnay will be labeled as 'blanc de blancs,' while ones comprised of only red grapes are called 'blanc de noirs.'
Representing the topmost expression of a Champagne house, a vintage Champagne is one made from the produce of a single, superior harvest year. Vintage Champagnes account for a mere 5% of total Champagne production and are produced about three times in a decade. Champagne is typically made as a blend of multiple years in order to preserve the house style; these will have non-vintage, or simply, NV on the label. The term, "vintage," as it applies to all wine, simply means a single harvest year.
CGM24486_2003
Item#
136408