Kracher Scheurebe Zwischen Den Seen Trockenbeerenauslese No. 6 (375ML) 2002

Parker
Robert

Spectator
Wine
Product Details
---
Varietal
---
Region
---
Producer
---
Vintage
2002
---
Size
375ML
---
ABV
8.5%
---
Features
Collectible
---
Winemaker Notes
Medium golden yellow in color. Aromas of ripe, yellow apple in the nose over smoky and spicy notes. Exceptional saltiness on the palate with citrus fruit characters. Highly refreshing and elegant finish.
Professional Ratings
Robert Parker's Wine Advocate

#6 Scheurebe Trockenbeerenauslese Zwischen den Seen offers quite a contrast to the #5, sublimating the obvious Scheurebe varietal character. Peach jam, lemon, honey, pure botrytis and mysteriously high-toned esters shimmer from the glass. The palate is bright and clear, impressively polished, creamy and viscous. There is an almost statuesque character to the wine, yet it is upliftingly bright and elegant. (We have descended from around 9.5% alcohol in the four previous wines to 8.5% here.) The peach jam obtains counterpoint from bitter suggestions of peach kernel. Layering of lemon flavors – candied, fresh, zesty pip – also offer complex counterpoint.

Wine Spectator

Juicy and sweet, with apricot and baked apple flavors, and notes of smoke and candied grapefruit. Wonderful balance and acidity, and loads of spice on the fresh finish.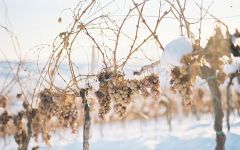 Located in the Seewinkel, an area in the Burgenland region of Austra, along the eastern shore of Lake Neusiedl, Weinlaubenhof Alois Kracher is in possession of a microclimate uniquely suited to the production of Beerenauslese and Trockenbeerenauslese wines. 32 hectares of vineyards are planted with Welschriesling, Chardonnay, Traminer, Muskat Ottonel and Scheurebe. Kracher is internationally regarded as one of the finest dessert wine makes. After Alois Kracher passed away in December 2007, his 27 year-old son Gerhard took over responsibility of winemaking. He manages the winery with the same strength, firm will and consequence as his famous father once did.
Apart from the classics, we find many regional gems of different styles.
Late harvest wines are probably the easiest to understand. Grapes are picked so late that the sugars build up and residual sugar remains after the fermentation process. Ice wine, a style founded in Germany and there referred to as eiswein, is an extreme late harvest wine, produced from grapes frozen on the vine, and pressed while still frozen, resulting in a higher concentration of sugar. It is becoming a specialty of Canada as well, where it takes on the English name of ice wine.
Vin Santo, literally "holy wine," is a Tuscan sweet wine made from drying the local white grapes Trebbiano Toscano and Malvasia in the winery and not pressing until somewhere between November and March.
Rutherglen is an historic wine region in northeast Victoria, Australia, famous for its fortified Topaque and Muscat with complex tawny characteristics.
The source of Austria's finest botrytized sweet wines, Burgenland covers a lofty portion of Austria's wine producing real estate. It encompasses the smaller regions of Neusiedlersee, Neusiedlersee-Hügelland, Mittelburgenland and Südburgenland. The latter two are most associated with their exceptional red wines. The region as a whole produces no shortage of important whites.
Neusiedlersee, named for the lake that it surrounds to the east, is home to a great diversity of grape varieties. The region's most notable wines, however, are the botrytis-infected, sweet versions.
Neusiedlersee-Hügelland, which wraps the lake on its western side, includes the town of Rust, a historically esteemed wine community. Its close proximity to the lake's fog and mist make it another source of some of the more prestigious botrytized wines. Neusiedlersee-Hügelland also produces fine Blaufränkisch, Pinot Blanc, Neuburger and Grüner Veltliner, though a label will usually name the more general, Burgenland, so as not to confuse it with its eastern cousin, Neusiedlersee, across the lake.
Blaufränkisch is well suited to and makes up over half of the vineyard area in Mittelburgenland. The region's hills and plateaus, which are composed of variations in schist, loess and clay-limestone, produce high quality reds with interesting diversity.
Südburgenland, also known for its deep, complex and age-worthy Blaufränkisch, is beginning to turn out some alluring whites from Grüner Veltliner, Welschriesling and Weissburgunder (Pinot Blanc).
SEC708770_2002
Item#
708770