Kracher Scheurebe Zwischen Den Seen Trockenbeerenauslese No. 10 (375ML) 2002
Out of Stock

(was $85.97)
Winemaker Notes
Medium golden yellow in color. Aromas of fresh tangerine zest over floral nuances. There is a sensation of red-berried characters over delicate honeyed notes and a highly attractive bouquet. Rich and luscious with concentration of fruit extract over vibrant acidity. White tropical fruit notes, highly mineral with a salty tang on the finish; despite the immense residual sugar value, the wine is remarkably fresh.
Critical Acclaim
All Vintages
#10 Scheurebe Trockenbeerenauslese Zwischen den Seen – yes, it's the third wine this vintage with the same designation – has only 6.5% alcohol and is one of the most amazing elixirs of Scheurebe ever captured in bottle. Pineapple, tangerine, grapefruit, peppermint, honey, distilled black fruits, herbal essences, and sheer ethereal botrytism soar from the glass. In the mouth this is virtually gelatinous – in fact, more like an Esszencia even than the 2003 #1 – with a totally uncanny sense of lift and lightness. Sheer material density and searingly high acidity are tamed like the fable unicorn. Red and black fruit distillates, herbal/floral essences, deep, rich nut oils, generously juicy citrus .. all that and more is in the finish. This combines the sheer essence of Scheurebe found in #5 with some of the transmogrified, mysterious depth of #6, plus the ineffable character of an Esszencia.
Candied apricot and ripe pear flavors fill this lush and focused sweetie. There's also a reservoir of buttercream, vanilla and spice that give this plenty of richness as well. Unctuous, balanced finish.
View More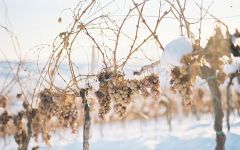 Located in the Seewinkel, an area in the Burgenland region of Austra, along the eastern shore of Lake Neusiedl, Weinlaubenhof Alois Kracher is in possession of a microclimate uniquely suited to the production of Beerenauslese and Trockenbeerenauslese wines. 32 hectares of vineyards are planted with Welschriesling, Chardonnay, Traminer, Muskat Ottonel and Scheurebe. Kracher is internationally regarded as one of the finest dessert wine makes. After Alois Kracher passed away in December 2007, his 27 year-old son Gerhard took over responsibility of winemaking. He manages the winery with the same strength, firm will and consequence as his famous father once did.
The source of Austria's finest botrytized sweet wines, Burgenland covers a lofty portion of Austria's wine producing real estate. It encompasses the smaller regions of Neusiedlersee, Neusiedlersee-Hügelland, Mittelburgenland and Südburgenland. The latter two are most associated with their exceptional red wines. The region as a whole produces no shortage of important whites.
Neusiedlersee, named for the lake that it surrounds to the east, is home to a great diversity of grape varieties. The region's most notable wines, however, are the botrytis-infected, sweet versions.
Neusiedlersee-Hügelland, which wraps the lake on its western side, includes the town of Rust, a historically esteemed wine community. Its close proximity to the lake's fog and mist make it another source of some of the more prestigious botrytized wines. Neusiedlersee-Hügelland also produces fine Blaufränkisch, Pinot Blanc, Neuburger and Grüner Veltliner, though a label will usually name the more general, Burgenland, so as not to confuse it with its eastern cousin, Neusiedlersee, across the lake.
Blaufränkisch is well suited to and makes up over half of the vineyard area in Mittelburgenland. The region's hills and plateaus, which are composed of variations in schist, loess and clay-limestone, produce high quality reds with interesting diversity.
Südburgenland, also known for its deep, complex and age-worthy Blaufränkisch, is beginning to turn out some alluring whites from Grüner Veltliner, Welschriesling and Weissburgunder (Pinot Blanc).
Apart from the classics, we find many regional gems of different styles.
Late harvest wines are probably the easiest to understand. Grapes are picked so late that the sugars build up and residual sugar remains after the fermentation process. Ice wine, a style founded in Germany and there referred to as eiswein, is an extreme late harvest wine, produced from grapes frozen on the vine, and pressed while still frozen, resulting in a higher concentration of sugar. It is becoming a specialty of Canada as well, where it takes on the English name of ice wine.
Vin Santo, literally "holy wine," is a Tuscan sweet wine made from drying the local white grapes Trebbiano Toscano and Malvasia in the winery and not pressing until somewhere between November and March.
Rutherglen is an historic wine region in northeast Victoria, Australia, famous for its fortified Topaque and Muscat with complex tawny characteristics.
SEC708764_2002
Item#
708764