Kracher Grand Cuvee Nouvelle Vague Chardonnay/Welschriesling TBA No. 7 (375ML) 2002
Winemaker Notes
Rich golden yellow tone in color. Attractive aromas of ripe stone fruit, apricot jam, nuts and fresh herbs. Silky texture and highly balanced acidity with pleasant floral notes on the finish and an elegant, salty tang.
Critical Acclaim
All Vintages
The #7 Grande Cuvee Trockenbeerenauslese Nouvelle Vague –as usual from Chardonnay and Welschriesling – smells of apple jelly, pineapple, litchi, mango and banana with overtones of cherry and marzipan. Full and rich on the palate, this handles its enormous sweetness by preserving juicy essences of its diverse fruits and displaying only a subtle, lovely hint of caramelization (although more will surely emerge as the wine matures). Even the marzipan note seems to be imbedded with fresh almonds, and a subtle sense of citrus zest and berry skin tartness is woven into the whole. The nearly endless, palate saturating finish reprises most of the aforementioned themes, and with the past as guide one can safely predict there is much else to come.
Amazingly lush and unctuous, with an impressive silkiness and loads of buttercream, vanilla, ripe pear and baked apple flavors. Balanced, thick and ripe, with plenty of structure. The elegant finish is filled with lots of hot toddy notes. Chardonnay and Welschriesling.
View More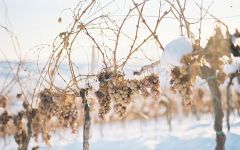 Located in the Seewinkel, an area in the Burgenland region of Austra, along the eastern shore of Lake Neusiedl, Weinlaubenhof Alois Kracher is in possession of a microclimate uniquely suited to the production of Beerenauslese and Trockenbeerenauslese wines. 32 hectares of vineyards are planted with Welschriesling, Chardonnay, Traminer, Muskat Ottonel and Scheurebe. Kracher is internationally regarded as one of the finest dessert wine makes. After Alois Kracher passed away in December 2007, his 27 year-old son Gerhard took over responsibility of winemaking. He manages the winery with the same strength, firm will and consequence as his famous father once did.
The source of Austria's finest botrytized sweet wines, Burgenland covers a lofty portion of Austria's wine producing real estate. It encompasses the smaller regions of Neusiedlersee, Neusiedlersee-Hügelland, Mittelburgenland and Südburgenland. The latter two are most associated with their exceptional red wines. The region as a whole produces no shortage of important whites.
Neusiedlersee, named for the lake that it surrounds to the east, is home to a great diversity of grape varieties. The region's most notable wines, however, are the botrytis-infected, sweet versions.
Neusiedlersee-Hügelland, which wraps the lake on its western side, includes the town of Rust, a historically esteemed wine community. Its close proximity to the lake's fog and mist make it another source of some of the more prestigious botrytized wines. Neusiedlersee-Hügelland also produces fine Blaufränkisch, Pinot Blanc, Neuburger and Grüner Veltliner, though a label will usually name the more general, Burgenland, so as not to confuse it with its eastern cousin, Neusiedlersee, across the lake.
Blaufränkisch is well suited to and makes up over half of the vineyard area in Mittelburgenland. The region's hills and plateaus, which are composed of variations in schist, loess and clay-limestone, produce high quality reds with interesting diversity.
Südburgenland, also known for its deep, complex and age-worthy Blaufränkisch, is beginning to turn out some alluring whites from Grüner Veltliner, Welschriesling and Weissburgunder (Pinot Blanc).
Apart from the classics, we find many regional gems of different styles.
Late harvest wines are probably the easiest to understand. Grapes are picked so late that the sugars build up and residual sugar remains after the fermentation process. Ice wine, a style founded in Germany and there referred to as eiswein, is an extreme late harvest wine, produced from grapes frozen on the vine, and pressed while still frozen, resulting in a higher concentration of sugar. It is becoming a specialty of Canada as well, where it takes on the English name of ice wine.
Vin Santo, literally "holy wine," is a Tuscan sweet wine made from drying the local white grapes Trebbiano Toscano and Malvasia in the winery and not pressing until somewhere between November and March.
Rutherglen is an historic wine region in northeast Victoria, Australia, famous for its fortified Topaque and Muscat with complex tawny characteristics.
SEC708748_2002
Item#
708748