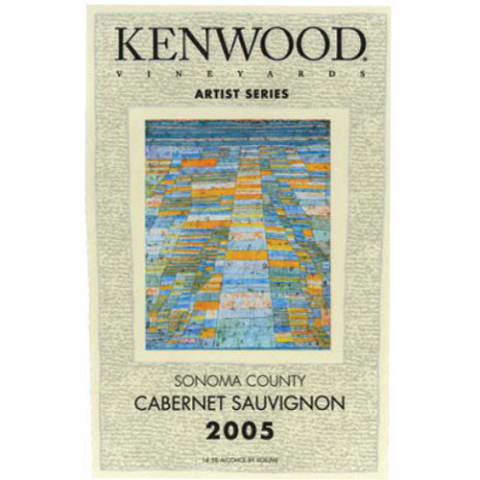 Kenwood Artist Series Cabernet Sauvignon (1.5 Liter Magnum) 2005
Winemaker Notes
Kenwood's 2005 Artist Series Cabernet Sauvignon is a luscious wine with great depth and focused tannins. It exhibits complex aromas of cassis, tea leaves and a hint of licorice. The wine is ready for enjoyment now but its full-bodied flavor will allow it to improve for many years.
The 2005 Vintage marks the 31st release of Artist Series Cabernet Sauvignon from Kenwood Vineyards. The harvest produced a bountiful crop of Cabernet Sauvignon with a distinctly rich and complex flavor that is followed by spicy and aromatic notes. After picking, the grapes were crushed and fermented in stainless steel tanks and then settled and racked twice before going down to barrels in December of 2005. After 29 months of barrel aging the very best lots were carefully selected and then blended and bottled. After bottling, the wine was aged for an additional year and a half before it was released.
Each year since the 1975 vintage, Kenwood's winemakers taste individual barrels of their finest lots of Cabernet Sauvignon at the end of aging and select only the best to become part of the Artist Series blend. The result is a flavorful and intense wine that represents less than 2% of the total Cabernet Sauvignon production.
About the Artist
Swiss-born German artist Paul Klee (1879-1940) was a major contributor to 20th century art not only with his paintings but also with his theory, teachings and written compositions. Influenced by travels to Egypt, his monumental "Highway and Byways" (1929) is a reflection of rhythm and proportion, an interpretation of landscape divided by vertical and horizontal networks. It is one of his many profound works that illustrate his ability to experiment with and invent new ways of expression.
Located in the heart of the Sonoma Valley, Kenwood Vineyards is dedicated to producing premium wines truly representative of Sonoma County's world-class vineyards.
Kenwood Vineyards was established in 1970 in the former Pagani Brothers Winery, a historic cellar dating back to 1906. Thoroughly refurbished and modernized, the facility now boasts more than 125 stainless steel fermenting tanks and large oak uprights, and 20,000 small French and American oak barrels, all devoted to Kenwood Vineyards' "small lot" style of winemaking.
In addition to the 22-acre vineyard surrounding the winery, Kenwood Vineyards sources grapes from dozens of vineyards – many farmed sustainably, using natural soil amendments and pest controls whenever possible rather than chemicals - in Sonoma County's best appellations, including Russian River Valley, Alexander Valley, Dry Creek Valley, Sonoma Valley and Sonoma Mountain. Each lot from each vineyard is kept separate throughout the winemaking process, enabling the winemaker to bring it to its fullest potential. This "small lot" or "cuvee" style of winemaking also enables the winemaker to draw on an exceptionally broad "palette" to assemble wines that showcase classic character, subtle complexity and superb balance. As a result, every Kenwood Vineyards wine – whether Table Wine Series, Sonoma Series, Reserve, Jack London Vineyard or Artist Series – is consistent in quality and consistently delicious.
While Sonoma County is acclaimed—and rightfully so—for its Chardonnays, Pinot Noirs, and Zinfandels, it also produces exceptional Cabernet Sauvignon. Of the region's 18 American Viticultural Areas, only a handful produce top-notch Cabernet Sauvignon. These appellations include Alexander Valley, Knights Valley, Sonoma Valley and Dry Creek Valley. Sonoma Cabernet Sauvignons made in these appellations can offer a complex array of aromas and flavors. Fruit notes such as blackberry, blackcurrant, cassis, black cherry and raspberry often are accompanied by hints of graphite, dusty earth, cigar box, toast and vanilla. The varietal has a rich history in Sonoma, and some of these Cabernet Sauvignons and Cabernet-based blends rival the best from Napa Valley.
LSB218382_2005
Item#
218382