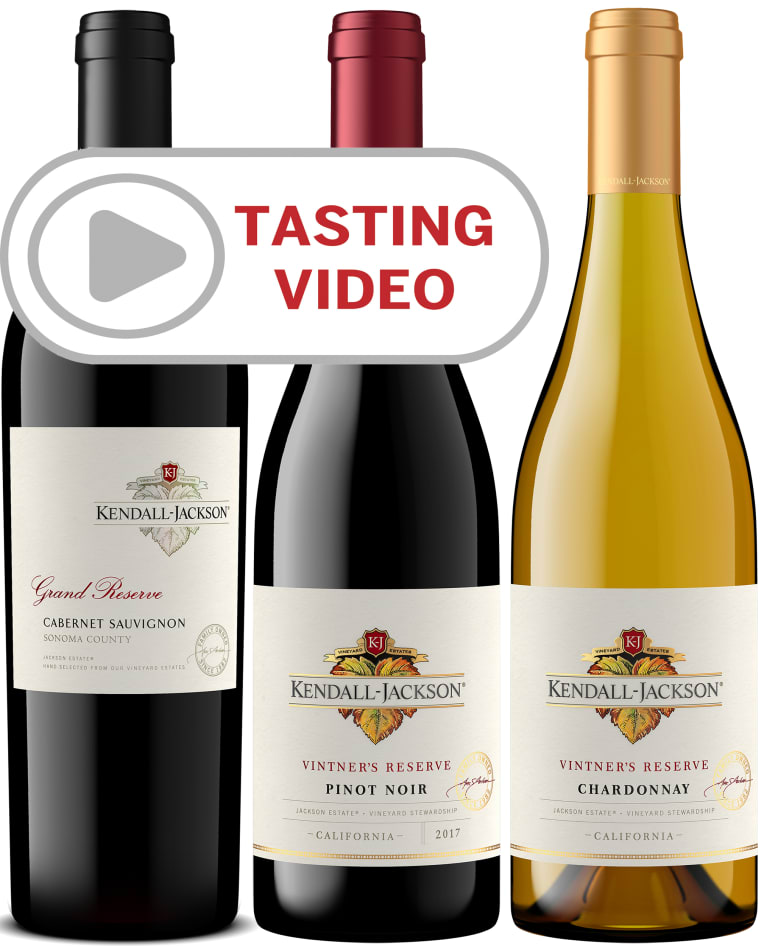 Kendall-Jackson Wine Trio with Tasting Video
Description
Watch a virtual wine tasting with America's favorite winery. Taste three of Kendall-Jackson's iconic wines with Winemaster, Randy Ullom and get food pairing tips from Jackson Family Wines Executive Chef, Justin Wangler.
Guests include:
Randy Ullom, Winemaster, Kendall-Jackson Winery
Justin Wangler, Executive Chef, Jackson Family Wines
Hosted by: Gwendolyn Osborn, Wine Educator, Wine.com
Tasting Set Includes:
Kendall-Jackson Grand Reserve Cabernet Sauvignon
This Cabernet Sauvignon has distinct flavors of blackberry, blueberry, plus both red and black currants with enticing fragrances of mocha and nutmeg. Subtle notes of chocolate and toasty vanilla add to the richness and length of this bold Cab, and are accompanied by fine grained tannins on a lengthy finish.
Kendall-Jackson Vintner's Reserve Pinot Noir
This Pinot Noir delivers bright cherry, strawberry and raspberry fruit with elegant earthy notes infused with cola and mild spice accents. Oak aging adds a hint of vanilla and a soft, toasty finish.
Kendall-Jackson Vintner's Reserve Chardonnay
This Chardonnay is fruit-forward, divinely complex, approachable and exceptionally food-friendly. Beautifully integrated tropical flavors such as pineapple, mango and papaya, with citrus notes that explode in your mouth. These flavors delicately intertwine with aromas of vanilla and honey to create depth and balance throughout. A hint of toasted oak and butter rounds out the long, lingering finish.
Download the tasting mat here.
Interested in other virtual wine tastings? Check out our upcoming tastings
Back in 1974, Jess Jackson saw in the fine vineyards of California's cool coastal regions fruit with a variety of outstanding flavors. What if there was a way to produce from this abundance, a single outstanding "cuvée" that offered both quality and value? The result, first released in 1983, was Vintner's Reserve Chardonnay, a rich, round and flavorful wine, made with hand-crafted methods. That same year, Grand Reserve was introduced, a line of ultra-premium wines that represented the full potential of California's finest vineyards and winemaking.
Today, over 5,000 acres of vineyard in California's coastal regions are farmed by Kendall-Jackson. Four separate wineries house what is possibly the single largest barrel-fermentation project in the world. But perhaps most important, is that Kendall-Jackson remains a family-owned winery.
PDX609955XFL_0
Item#
609955