Winemaker Notes
This wine is a bright raspberry pink. The nose is brimming with delicious strawberry, raspberry and poached rhubarb and a hint of yummy vanilla cream. Fresh and fruity with gorgeous raspberry and pomegranate flavors supporting the iconic notes of strawberries and cream. There is also a hint of peach iced tea. With its nice balance of juicy acidity and dry finish, this wine is ideal as a summer's day sipper.
Serve a with watermelon and mint salad or salads with goats' cheeses. Also a great match with raw/lightly cooked shellfish or fish. Perfect hot weather drinking, served extra chilled.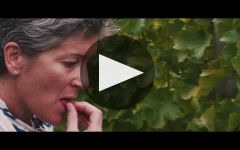 Creating honest, tasty, fruit-packed Marlborough wines is what Jules does best. Her wine is for people who laugh. People who sing, dance, feast and celebrate. People who sit out on the back deck solving the world's problems.
Born in Marlborough in the year the first vines were planted, Jules has literally grown up with Sauvignon Blanc. Deeply invested in the region and its grape growing families, she has made some of Marlborough's best known and successful wines.
Several life-affirming vintages in Italy underscored Jules' love of wine as a simple pleasure to be enjoyed alongside good food and great friends. Jules strongly believes wine should be more about creating great memories and less about status or cellaring potential.
Today, Jules makes her harvesting decisions in the vineyard, purely by taste rather than by laboratory analyses. Come harvest time, you'll find Jules relentlessly walking the rows of each vineyard, tasting berries for days on end, searching for the perfect flavor profile.
Jules left her corporate winemaking career behind to give her the freedom to make wines the way she thinks they should be made. No matter the cost, Jules will only release a wine if she is entirely satisfied it has met her standards. She only makes one batch of each wine every harvest. So, enjoy it while you can. Once it's gone, it's well and truly gone.
Every bottle of Jules Taylor wine is, in our humble opinion, exceptional. Jules only makes top notch wines and she guarantees this personally when she puts her name on the bottle. They are great memories in a bottle, created with sunshine from Marlborough and love from Jules.
Occupying the North Island's East Cape, Gisborne keeps The Bay of Plenty to its northwest and Hawkes Bay on its southwestern side. It is the country's most distinctive producer of Chardonnay, with heavy investment here until Sauvignon blanc stole the country's limelight. Gisborne produces soft and charming Chardonnay, boasting stone and tropical fruit flavors.
The region includes a good number of artisanal winemakers but many larger Auckland producers source from Gisborne for their own Chardonnay bottlings.
Whether it's playful and fun or savory and serious, most rosé today is not your grandmother's White Zinfandel, though that category remains strong. Pink wine has recently become quite trendy, and this time around it's commonly quite dry. Since the pigment in red wines comes from keeping fermenting juice in contact with the grape skins for an extended period, it follows that a pink wine can be made using just a brief period of skin contact—usually just a couple of days. The resulting color depends on grape variety and winemaking style, ranging from pale salmon to deep magenta.
XXIJT_ROSE_2019
Item#
618838