Jacquesson Cuvee 743 Extra Brut
Out of Stock

(was $84.99)
Winemaker Notes
Critical Acclaim
All Vintages
Aged in wood, this is the latest iteration of the producer's nonvintage cuvée based on the 2015 vintage It is impressive in its white-fruit richness that is perfectly balanced by intense acidity. Bottle aging has added to the Champagne's complexity. This is a fine wine that is ready to drink.
This offers an elegant and toasty bouquet with pear, dried flowers and white fruit aromas. On the palate, this is a pure and clean Champagne with some delicacy and floral aspects. This cuvée is even more elegant with a bit of air. Grapes are sourced from Aÿ and Dizy (60% of the crop) and Avize and Oiry (the remaining 40%). No dosage. The base wine is from the 2015 vintage.
Lovely spice and apple blossom notes are an enticing, aromatic thread in this elegant Champagne, wafting from the glass and winding through flavors of ripe yellow plum, salted Marcona almond, candied ginger and toast point on the palate. Fresh and creamy, with a minerally underpinning that lingers on the fine finish. Disgorged August 2019. Drink now through 2025.
Based on the 2015 vintage and disgorged in August 2019 without dosage, the Chiquet brothers' NV Extra-Brut Cuvée No. 743 is showing nicely, offering up inviting aromas of freshly baked bread, crisp yellow orchard fruit, beeswax and dried white flowers. Medium to full-bodied, pillowy and precise, it's elegantly fleshy, with an enveloping core of fruit, a pinpoint mousse and a nicely defined, saline finish.
Here too there is a whiff of baked bread to the citrusy aromas of Meyer lemon, green apple and an interesting hint of rose petal along with plenty of overt yeast influence. There is both good body and richness to the intense if not especially refined full-bodied flavors that culminate in a bitter lemon rind finish that is noticeably drier than the Cuvée 743. To my taste this is drinking well now though it will certainly hold.
Cuvée 743 is based on the 2015 vintage, a blend of fruit from Aÿ, Dizy and Hautvillers in the Marne Valley (60 percent) and Avize and Oiry in the Côte des Blancs. It comes together in a fragrant apple-harvest scent, developing notes of coriander and butterscotch as the flavors open with air. The richness is checked by a formidable structure, the wine lasting on the cool feel of a limestone cave.
View More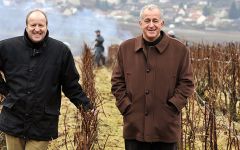 Champagne Jacquesson was founded in 1798 by Memmie Jacquesson and he did so well that Napoléon gave him a medal. The business left family hands toward the end of the 1800s, and eventually was bought by the Chiquet family in 1974. Today Jacquesson is jointly managed by Jean-Hervé and Laurent Chiquet. Jean-Hervé, once the cellar master, now primarily runs the commercial aspects of the business, while his younger brother Laurent runs the production side and has taken the role of chef de cave. In a given year, Champagne Jacquesson farms between 69 and 76 acres in the grand cru villages of Aÿ, Avize, and Oiry, and in the premier cru villages of Hautvillers, Dizy, and Mareuil-sur-Aÿ. The acres vary because the house owns 69 acres with the option to take farming contracts on as many as 7 more, and Jacquesson does all the farming on whatever it contracts for.
Sustainable practices are the norm here, and one-third of Jacquesson's vineyards are certified organic. The brothers use vertical presses rather than more abusive horizontal presses. The juice flows by gravity into steel tanks for 24 hours of settling, after which it is transferred to large neutral wood casks (foudres) for several months to undergo alcoholic and malolactic fermentations. The dosage is typically in the extra-brut range of one to six grams of sugar per liter.
The aim of the 7-series is to emphasize the best qualities of a given year, rather than to dumb down individual vintages to make a uniform non-vintage. It's worth noting that this series is being aged progressively longer in bottle, so that by the time Cuvée 734 was released in May, 2010 it had a full three years of bottle age, including four months after disgorgement. Jean-Hervé and Laurent had decided that the 7-series would be Jacquesson's best blended wine. Going forward, the vintage wines would be limited to the four single-vineyard wines, made only in good years and in very limited numbers, while the house's one blend would be the 7-series. The requirements for the vintage-dated single vineyards are simple: the wine must have a distinct personality, one that reflects its terroir, and it is not needed in the 7-series blend.
Associated with luxury, celebration, and romance, the region, Champagne, is home to the world's most prized sparkling wine. In order to bear the label, 'Champagne', a sparkling wine must originate from this northeastern region of France—called Champagne—and adhere to strict quality standards. Made up of the three towns Reims, Épernay, and Aÿ, it was here that the traditional method of sparkling wine production was both invented and perfected, birthing a winemaking technique as well as a flavor profile that is now emulated worldwide.
Well-drained, limestone and chalky soil defines much of the region, which lend a mineral component to its wines. Champagne's cold, continental climate promotes ample acidity in its grapes but weather differences from year to year can create significant variation between vintages. While vintage Champagnes are produced in exceptional years, non-vintage cuvées are produced annually from a blend of several years in order to produce Champagnes that maintain a consistent house style.
With nearly negligible exceptions, . These can be blended together or bottled as individual varietal Champagnes, depending on the final style of wine desired. Chardonnay, the only white variety, contributes freshness, elegance, lively acidity and notes of citrus, orchard fruit and white flowers. Pinot Noir and its relative Pinot Meunier, provide the backbone to many blends, adding structure, body and supple red fruit flavors. Wines with a large proportion of Pinot Meunier will be ready to drink earlier, while Pinot Noir contributes to longevity. Whether it is white or rosé, most Champagne is made from a blend of red and white grapes—and uniquely, rosé is often produce by blending together red and white wine. A Champagne made exclusively from Chardonnay will be labeled as 'blanc de blancs,' while ones comprised of only red grapes are called 'blanc de noirs.'
A term typically reserved for Champagne and Sparkling Wines, non-vintage or simply "NV" on a label indicates a blend of finished wines from different vintages (years of harvest). To make non-vintage Champagne, typically the current year's harvest (in other words, the current vintage) forms the base of the blend. Finished wines from previous years, called "vins de reserve" are blended in at approximately 10-50% of the total volume in order to achieve the flavor, complexity, body and acidity for the desired house style. A tiny proportion of Champagnes are made from a single vintage.
There are also some very large production still wines that may not claim one particular vintage. This would be at the discretion of the winemaker's goals for character of the final wine.