HINE H by HINE Cognac
Ships today if ordered in next 3 hours
Distiller Notes
H by Hine is whimsical. If it were a young man, it would have the keen eye of Dick Diver in Fitzgerald's Tender is the Night. Adventurous, lively and elegant, it is the ideal sidekick for daring cocktails and a flamboyant soloist when served neat with a dash of cold tonic. Expressive yet discreet, its notes of iris, fresh apricot, acacia and white pepper chime with its sprightly and joyful demeanour. Feels like Coachella in a bottle.
H by Hine is a young cognac with a taste for adventure and originality. Serve frozen in a shot glass with sashimi. Or simply over ice with tonic, cider or ginger ale, garnished with a twist of lime, cucumber or rosemary. Add as a surprising twist to a punch when too many friends show up with very little time, or simply drizzle over a fresh peach salad.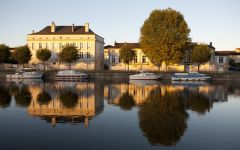 In the 18th century, an English merchant sent his son Thomas Hine to France to learn the art of making cognac. There Thomas fell in love with the daughter of a famous cognac négociant. Following their marriage, Thomas joined his father-in-law's company and expanded what was to become the traditional business of HINE: making bespoke cognacs. In 1817, the company became Thomas Hine & Co. and now, more than 250 years later, the extraordinary story of the Hine family and HINE cognac continues. Known for its a sophisticated range of fine & delicate cognacs, HINE was appointed the official cognac supplier to HRH Queen Elizabeth II of England in 1962. The Royal Warrant is granted for five years and every five years HINE has been honored to have the Warrant renewed.
Widely regarded as the finest and most complex grape-based spirit in the world, Cognac follows rigorously strict production guidelines. It is made exclusively of wine—most commonly from Ugni Blanc—from the Charente and Charente-Maritime regions surrounding the town of Cognac in southwestern France. After a second distillation in antique copper pot stills (called charentais), the spirit is transferred to French oak barrels and aged a minimum of two years (VS). Cognac is classified by both age and region (Cru). The Grande Champagne Cru and Petite Champagne Cru, both having shallow limestone soils, are the most respected.