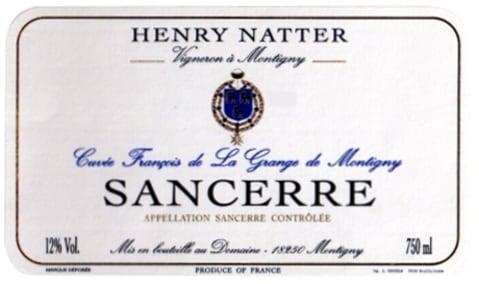 Henry Natter Sancerre Cuvee Francois de la Grange de Montigny 2016
Winemaker Notes
This Sauvignon is harvested at peak ripeness on Montigny's hillsides of 60 years old vines. This Sancerre reveals a personal stamp with golden hue. This cuvee is silky, yet ample and intense. It offers rich aromas and flavors and reveals an aromatic complexity.
Henry and enologist Cecile Natter started their domaine in 1974 from scratch, beginning with a family hectare in Montigny. They married, planted half of that hectare on a hillside running up behind the village, and started a family (that's Cecile with her daughter Mathilde in the photo to the left). This was in Sancerre's southwestern heights, an area widely planted to vines before phylloxera. Afterward, apart from a few scattered vineyards, the viticultural reconstruction generally passed these hillsides by and the area became a breadbasket for the local grain farmers. The Natter family domaine was the first on this side of the modern appellation of Sancerre and remains the only winemaking domaine in Montigny, a terroir noted for its preponderance of terres blanches, or Kimmeridgian Marls. (Kimmeridgian is found on the hilltops curving around the western edge of the appellation; Caillottes, or Oxfordian limestone, is found in the center of the appellation; and flint or silex is found along the fault line running north-south through the town of Sancerre itself.) This soil gives great power to the wines, and a remarkable ability to age without oxidation. Stored properly, a top twenty-year-old Natter Sancerre retains astonishing freshness while evolving down to its elemental, mineral base. Almost no one thinks of old Sancerre, which is a shame because the good ones can amaze.
Today, Henry and Cécile farm 23 hectares (57 acres) of vines. The breakdown is 19 hectares (47 acres)of Sauvignon and 4 hectares (10 acres) of Pinot Noir for red and rosé. From the beginning in 1974, farming and winemaking practices here have been noteworthy. Organic composts and homeopathic applications have always been used in place of chemical fertilizers (the right is reserved to use synthetic fungicides in particularly difficult years—above all, for example, during a wet year after hail damage when rot could ravage an entire crop). Fermentations are routinely made in huge old wood casks (foudres) normally with indigenous yeasts, which stands in contrast to the far more typical production of Sancerre in steel or fiberglass tanks with commercial yeasts. Sancerre, chez Natter, is made the way it used to be made.
Henry manages the vineyards while Cécile manages the fermentations and the upbringing of the wines. These days they're helped by daughter Mathilde and son Vincent.
Marked by its charming hilltop village in the easternmost territory of the Loire, Sancerre is famous for its racy, vivacious, citrus-dominant Sauvignon blanc. Its enormous popularity in 1970s French bistros led to its success as the go-to restaurant white around the globe in the 1980s.
While the region claims a continental climate, noted for short, hot summers and long, cold winters, variations in topography—rolling hills and steep slopes from about 600 to 1,300 feet in elevation—with great soil variations, contribute the variations in character in Sancerre Sauvignon blancs.
In the western part of the appellation, clay and limestone soils with Kimmeridgean marne, especially in Chavignol, produce powerful wines. Moving closer to the actual town of Sancerre, soils are gravel and limestone, producing especially delicate wines. Flint (silex) soils close to the village produce particularly perfumed and age-worthy wines.
About ten percent of the wines claiming the Sancerre appellation name are fresh and light red wines made from Pinot noir and to a lesser extent, rosés. While not typically exported in large amounts, they are well-made and attract a loyal French following.
Capable of a vast array of styles, Sauvignon Blanc is a crisp, refreshing variety that equally reflects both terroir and varietal character. Though it can vary depending on where it is grown, a couple of commonalities always exist—namely, zesty acidity and intense aromatics. This variety is of French provenance. Somm Secret—Along with Cabernet Franc, Sauvignon Blanc is a proud parent of Cabernet Sauvignon. That green bell pepper aroma that all three varieties share is no coincidence—it comes from a high concentration of pyrazines (herbaceous aromatic compounds) inherent to each member of the family.
STC220268_2016
Item#
599130