Glengoyne 12 Year Single Malt Scotch Whisky
Distiller Notes
2021 San Francisco World Spirits Competition Gold Medal Winner
Lemon zest, toffee apples – and a scent of coconut. The signature sherry wood brings intensity and richness, while first fill bourbon casks add fresh notes of citrus and vanilla. 
Proof: 86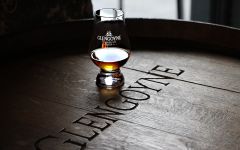 The Glengoyne founders established tradition of air drying their barley through necessity: there is no peat in the soil around Dumgoyne. This means there is no smokiness in their whisky – there is nowhere for coarse flavors or average casks to hide. That is why they take such care to craft their spirit, coaxing it through the slowest stills in Scotland – then maturing in fine sherry casks. They stay true to the taste of Glengoyne – creating bold fruits and rich sweetness.
"A good gulp of hot Scotch Whisky at bedtime–it's not very scientific, but it helps!"
Alexander Fleming, Scottish inventor of penicillin, prescribed it as a cure for the common cold. Today Single Malt Scotch Whiskies are prized by enthusiasts and aficionados the world over for their rarity, age and complexity. By definition these must be produced in Scotland from a single distillery and made entirely from malted barley, using a pot still. The appearance, aroma and flavor of a Single Malt Scotch Whisky can vary widely depending on whether it was produced in the Highlands, Lowlands Islands, Speyside, Islay or Campbelltown regions.