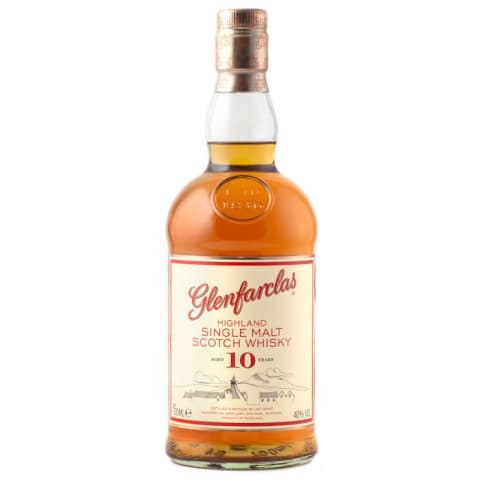 Glenfarclas 10 Year Single Malt Scotch Whisky
Distiller Notes
2019 San Francisco World Spirits Competition Gold Medal Winner.
Vibrant, straw-gold. The nose has notes of tempting sherry-sweet malty tones combined with delicate aromas, releasing subtle spices. Warming the glass reveals honey, vanilla, and pear drops. The palate is delicately light, with a mouth-watering combination of maltiness and sherry-sweetness. Hints of dried fruit, vanilla, cinnamon and cloves tempt the taste buds further. The finish is long, smooth and spicy.
Proof:80
Since 1865, Glenfarclas has been owned and managed by just one family, the Grants of Glenfarclas. On the 8th of June 1865, John Grant acquired the tenancy for the Rechlerich Farm and as part of the transaction purchased the Glenfarclas Distillery. To this day Glenfarclas is one of the only few distilleries in Scotland to remain family owned and managed. Now in the hands of the 5th and 6th generations, the Grants remain committed to the vision of creating the best quality Highland Single Malt Scotch Whisky, in the traditional Speyside style.