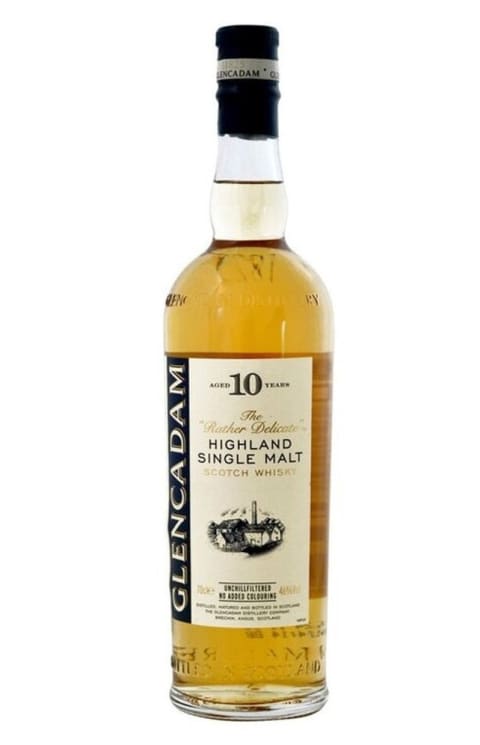 Glencadam 10 Year Single Malt Scotch Whisky
Ships Tomorrow
Limit
0
bottles
per customer
Distiller Notes
Straw gold, non-chill filtered. Lively, intense. Grassy freshness and citrus tones with hints of spicy oak. Rounded elegance. Clean, crisp citrus tones. A pleasing harmony between a natural sweetness and the soft spicy oak. Long and soothing. Rich, clean barley and gristy sweetness.
Proof: 92
Glencadam first opened in 1825, in the ancient city of Brechin. This was the year that the first horse-drawn omnibuses were established in London, the world's first modern railway opened, with the first public train pulled by steam engine, Cox's Orange Pippin apples were first grown and London became the largest city in the world, over-taking Beijing. It was little more than one year after the Excise Act of 1823 legalised distilling.
Glencadam is now the only distillery in the county of Angus, an area of the Highlands region of Scotland. The first owner was a "Mr Cooper", who sold the distillery in 1827. The name "Glencadam" comes from the area known as "The Tenements of Caldhame". These were plots of ground given to the burghs of Brechin for food production. They were situated to the north and south east of the Den Burn where the distillery stands.
"A good gulp of hot Scotch Whisky at bedtime–it's not very scientific, but it helps!"
Alexander Fleming, Scottish inventor of penicillin, prescribed it as a cure for the common cold. Today Single Malt Scotch Whiskies are prized by enthusiasts and aficionados the world over for their rarity, age and complexity. By definition these must be produced in Scotland from a single distillery and made entirely from malted barley, using a pot still. The appearance, aroma and flavor of a Single Malt Scotch Whisky can vary widely depending on whether it was produced in the Highlands, Lowlands Islands, Speyside, Islay or Campbelltown regions.