Giffard Rhubarb Liqueur
Out of Stock

(was $26.97)
Ships today if ordered in next 3 hours
Distiller Notes
Intense aroma, typical of rhubarb. On the palate, a stewed note that prevails over the stringent characteristic of the fruit, making the liqueur both lively and sweet.
Proof: 40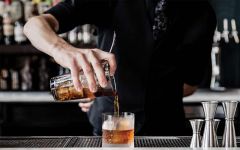 Giffard liqueurs are made with tradition and quality, blending established processes like slow maceration, with cutting-edge methods, in order to achieve the uncompromised taste of whole, natural fruits, herbs and spices.
Since 1885, four generations of the Giffard family have worked hard to continuously provide the world with quality liqueurs and syrups.
It all began during the very hot summer of 1885. Èmile Giffard was a pharmacist with an inventive, curious nature and the palate of a gourmand. In the scorching summer of 1885, in the town of Angers, he was studying the digestive and cooling properties of mint. Giffard's research resulted in the invention of a clear mint liqueur, steam-distilled from the Mitcham variety of peppermint. As delicious as it was refreshing, this liqueur was immediately received with enthusiasm from the townspeople of Angers. Monsieur Giffard's elixir was called Menthe Pastille after the mint candies that were so famous at the time.
Giffard parlayed the success of Menthe Pastille into a fully operational distillery. Since 1885, the Giffard facility has produced liqueurs, syrups, cordials and tonics from the rich bounty of local fruits and botanicals as well as the exotic spices and herbs that were brought in by ship on the Loire River from ports around the world. Four generations later, Giffard is owned and operated by brother and sister, Bruno and Edith Giffard, the great-grandchildren of Èmile, who maintain tradition and quality for all of their products.
Heralded as "The Garden of France," the Loire Valley is France's second largest agricultural region and its leader in organic agriculture. The valley's farms and orchards are renowned for the quality of their produce. The Giffard distillery is located a short drive from the center of Angers, a beautiful, medieval town in the heart of the Loire Valley. Giffard sources many of its fruits and herbs for production from within a short radius of their distillery.
First prepared by 13th century Italian monks as herbal medicines and elixirs, Liqueurs are distilled spirits that have been combined with flavoring agents. A range of herbs, spices, nuts, fruits and flowers can be used, and a sweetener such as sugar or corn syrup is often added. While typically rather sweet, some examples are herbaceous or tart and pair exceptionally well with desserts or act as a delightful addition to cocktails.