Gerard Bertrand Code Rouge Blanc de Blanc
Winemaker Notes
It has a very pale, almost crystalline color, with fine bubbles. The bouquet is floral with notes of pear, citrus fruits and fresh fruits. This wine is fresh and mineral on the palate. Code Rouge is fine, elegant and refined.
Critical Acclaim
All Vintages
Although the bottle is red, the wine is white, a blend of 70 percent chardonnay, 20 percent chenin and 10 percent mauzac, fermented in bottle and aged at least a year before release. A new cuvee from Bertrand, it's a big, rich sparkler, creamy and broad, with hazelnut, mushroom and spice notes detailing the yellow plum fruit. It finishes dry, an opulent cremant for lobster rolls this summer.
View More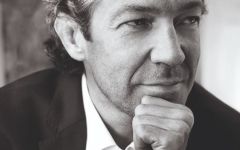 Gerard Bertrand was born and raised in the South of France. Making wine with his father, Georges, since the age of 10, Gerard Bertrand offers the full range and diversity of wines from the region – red, white, rose, varietal, appellation, estate, still, sparkling, and dessert.
Every wine evokes the image and emotions from the South of France; "Art de Vivre" – the "art of life." Committed to producing quality wines of great value, Gerard is hands on in every facet which bears his name… and has been fortunate to receive great accolades from World Wide press reinforcing his dedication.
"I welcome all to experience the South of France; here at Chateau L'Hospitalet or at your own home or favorite restaurant."
An appellation in the cooler, elevated, southern Languedoc and internationally recognized for its sparkling wines, Cremant de Limoux by definition must be comprised predominantly of Chardonnay and Chenin Blanc with only miniscule amounts of the indigenous white variety, Mauzac.
This is in contrast to the more regional sparkler, Blanquette de Limoux, created from mainly Mauzac with tiny amounts of Chardonnay and Chenin Blanc.
A term typically reserved for Champagne and Sparkling Wines, non-vintage or simply "NV" on a label indicates a blend of finished wines from different vintages (years of harvest). To make non-vintage Champagne, typically the current year's harvest (in other words, the current vintage) forms the base of the blend. Finished wines from previous years, called "vins de reserve" are blended in at approximately 10-50% of the total volume in order to achieve the flavor, complexity, body and acidity for the desired house style. A tiny proportion of Champagnes are made from a single vintage.
There are also some very large production still wines that may not claim one particular vintage. This would be at the discretion of the winemaker's goals for character of the final wine.