Francesco Rinaldi Gavi 2014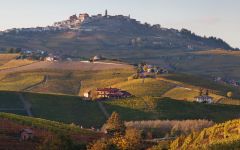 From the original cellar with vaults, the work started by Giovanni has been enhanced year after year by his descendants with extension works in the winery at the hand of Luciano and Michele, sons of Francesco Rinaldi, in the sixties. More recently conventional processing in the cellar has been completed with modern technology, optimizing work but at the same time making sure to preserve the uniqueness of our wines. The result is a modern cellar with a traditional taste for meditation. After pressing and fermentation where grapes become wine in a fast and continuous transformation process, the precious liquid moves on to the 'halls of silence'; cellars dug in the hill, where our Barolo is left to age in Slavonian oak barrels. It's here that the tale of a grand wine is written; it's right here where the heart of the winery Francesco Rinaldi beats. A winery where one can sense the family's passion focused on making the most of the values offered by the Barolo land. The bottling department and warehouse were transferred to Alba in the thirties, a lucky deed by Francesco Rinaldi because the main transport system for bulk goods of those days, the train, had its terminus there.
Among Piedmont's most historical and respected white wine producing zones, Gavi—also known as Gavi di Gavi and Cortese di Gavi—comes from Piedmont's southeast, in the province of Alessandria. Gavi is the main town of the area; Cortese is the grape. Cortese for Gavi is grown in any of 11 communes in the area where the soils are abundant in chalky, white, limestone-rich clay. The best Gavi from these locations are delicately floral, with stone fruit and citrus characters and a crisp, mineral-laden finish.
While typically made in a fresh and unoaked style, by law Gavi can come in many forms: frizzante, spumante, metodo classico and méthode ancestrale. But most producers maintain a conventional winemaking practice of temperature-controlled fermentation in stainless steel and make fresh, still whites. However, there are several barrique-aged examples, which can be interesting. The biodynamic wines of Gavi, fermented with ambient yeasts can be the most expressive.
First recorded in the early 17th century in the province of Alessandria in SE Piedmont, Cortese today is most highly regarded from Gavi where soils are limestone-rich. It also grows well in the surrounding zones, namely Monferrato and Colli Tortonesi. Somm Secret—Because of its freshness and chalky minerality, this white wine commonly populates the fish restaurants' wine lists of the Ligurian coast so practically owes more allegiance to this neighboring region than its home.
ZZZREFPRODUCT325927
Item#
325927