FitaPreta Vinhos Tinto 2018
Winemaker Notes
Lurid ruby. Ripe black and blue fruits, cola, vanilla and potpourri on the deeply perfumed nose. Smooth and sweet on entry and then tighter in the midpalate, offering bitter cherry and blueberry flavors and hints of vanilla and spicecake. A smoky nuance emerges with aeration and carries through the long, gently tannic finish, which echoes the vanilla note.
Blend: 40% Aragones, 30% Trincadeira, 30% Alicante Bouschet
Critical Acclaim
All Vintages
Three of the Alentejo's most familiar grape varieties—Alicante Bouschet, Aragonez and Trincadeira—go into this warm, rich and southern-feeling wine. Its fine tannins are merged with the black fruits and ripe acidity to give a powerful, concentrated and succulent wine.
View More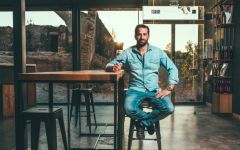 Fitapreta is the culmination of a partnership between a young, dynamic Portuguese winemaker and a British-born viticulturist, dedicated to a new examination of terroir in the Alentejo. The winemaker Antonio Macanita returned home to his native Portugal after winemaking stints in Napa, Australia and France, most notably Ch. Lynch Bages. David Booth, the viticulturist, was already well established in Portugal when they began work together in 2004. Fitapreta operates on the Portuguese idea of "Palpite" or intuition when it comes to their viticulture and winemaking. With this trust of the land and the natural growth process of the vineyard, Antonio Macanita is able to make wines that are imbued with a singular sense of place. This winery operates on a strictly gravity-fed basis to avoid any harsh treatment of the must. All wines are spontaneously fermented with indigenous yeasts. Small parcels of each vineyard are fermented separately to preserve distinct stylistic qualities. These are then blended to achieve a layered, complete picture of the terroir.
The Alentejo is a large region in southeastern central Portugal, which is one of the agricultural centers of the country. The climate is Atlantic-Mediterranean, with significant diurnal-nocturnal temperature differences. This temperature range produces fruit with a natural combination of maturity and freshness. The Alentejo sees 3,000 hours of annual sunshine and 600mm of annual rainfall, less than 15% of which falls during the growing season. These vineyards are planted to rocky schist at 300-400m elevation.
Responsible for a majority of Portugal's fine wine production—and over half of the world's cork production—Alentejo represents a major force in Portugal's wine industry. This southern Portugese region is characterized by stretches of rolling plains and vineyards dotted with majestic cork oaks. Access to land enables the farmers of Alentejo to produce wines in great economies of scale, without compromising quality, compared to those regions to the north. The region of Alentejo indeed covers a third of the country.
Its classified (DOP) wines must come from one of eight subregions, where elevations are a bit higher, air cooler and less fertile soils are perfect for vines. The optimal regions are Portalegre, Borba, Redondo, Reguengos de Monsaraz, Granja-Amareleja, Vidigueira, Evora and Moura. Alentejo is not without the conveniences of modern winemaking as well. Irrigation supplements low rainfall and temperature control in the winery assures high quality wines.
The potential of the area has attracted many producers and its wine production continues to grow. Alentejo's charming, fruit-forward wines have naturally led to local and global popularity.
White wines tend to be blends of Antão Vaz, Roupeiro and Arinto. However, in growing proportions, the white grapes Verdelho, Alvarinho and Viognier have been enjoying success. But red varieties actually exceed whites in Alentejo. Aragonez, Trincadeira, Alicante Bouschet and Castelão grapes blend well together and are responsible for most of the Alentejo reds.
With hundreds of red grape varieties to choose from, winemakers have the freedom to create a virtually endless assortment of blended red wines. In many European regions, strict laws are in place determining the set of varieties that may be used, but in the New World, experimentation is permitted and encouraged resulting in a wide variety of red wine styles. Blending can be utilized to enhance balance or create complexity, lending different layers of flavors and aromas. For example, a red wine blend variety that creates a fruity and full-bodied wine would do well combined with one that is naturally high in acidity and tannins. Sometimes small amounts of a particular variety are added to boost color or aromatics. Blending can take place before or after fermentation, with the latter, more popular option giving more control to the winemaker over the final qualities of the wine.
How to Serve Red Wine
A common piece of advice is to serve red wine at "room temperature," but this suggestion is imprecise. After all, room temperature in January is likely to be quite different than in August, even considering the possible effect of central heating and air conditioning systems. The proper temperature to aim for is 55° F to 60° F for lighter-bodied reds and 60° F to 65° F for fuller-bodied wines.
How Long Does Red Wine Last?
Once opened and re-corked, a bottle stored in a cool, dark environment (like your fridge) will stay fresh and nicely drinkable for a day or two. There are products available that can extend that period by a couple of days. As for unopened bottles, optimal storage means keeping them on their sides in a moderately humid environment at about 57° F. Red wines stored in this manner will stay good – and possibly improve – for anywhere from one year to multiple decades. Assessing how long to hold on to a bottle is a complicated science. If you are planning long-term storage of your reds, seek the advice of a wine professional.
PBC9406964_2018
Item#
550874