Familia Torres Coronas Tempranillo (1.5 Liter Magnum) 1998
Winemaker Notes
The traditional Tempranillo variety is the basis of Coronas, ennobled with a small proportion of Cabernet Sauvignon. Delicate floral aromas over a background of very ripe fruit (blackberry and strawberry), oak and truffles. Its tannins have a fruity, meaty structure that evolves into velvety touches of smoke and spices acquired during ageing. Delicious with meat, stews, casseroles, and traditional Spanish paella.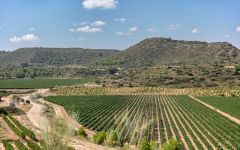 In 2020, Familia Torres Winery is celebrating their 150th anniversary, but the family's roots extend even farther than that. The first mention of the Torres wine family was in 1557, but the winery wasn't established until 1870, when the profits from the family shipping company made it possible to enter the commercial wine space.
Miguel Torres Vendrell founded the company, and since then, the family has passed on the winery (and the name Miguel) steadfastly from generation to generation. They hit a setback when the winery was bombed during the Spanish civil war, but Miguel Torres i Carbó rebuilt, and began the bottling and exporting of the wine.
In 1991, Miguel A. Torres took the reigns, and remains president today. He made remarkable strides in environmental advocacy, social responsibility, fair trade, and research and innovation. Since 2012, Miguel Torres Maczassek has been at the helm, and has continued his father's work, while also embarking on his own projects. Recognized year after year and Drinks Internationals' "World's Most Admired Wine Brand," the story of Familia Torres is a known and respected one throughout Spain and the world.
Juan Torres Master Distillers is the spirits division of Familia Torres. Its origins date back to 1928 when Juan Torres Casals of the family's second generation began making aged brandies matured in oak casks; smooth and aromatic spirits distilled from a selection of the finest white Penedès (Barcelona) wines. With 90 years to its name, Juan Torres Master Distillers continues to perfect the art of distillation to this day – a constant pursuit of excellence that finds reflection in each one of its ten, exquisitely crafted spirits, including brandy, pisco, and orange liqueur produced under the brands Torres Brandy, El Gobernador, and Magdala. These elegant, personality-driven spirits find their perfect match in the world of mixology, where they live up to the expectations of a new consumer who delights in shared moments of superior quality.