El Maestro Sierra Palo Cortado Sherry (375ML)
Ships today if ordered in next hour
Winemaker Notes
It takes a skilled capataz, or cellar master, to recognize an unruly sherry; sherry that chooses its own path to aging. These aren't Amontillados, and they're not Olorosos. They are something unique and all their own, they are Palo Cortados.
Critical Acclaim
All Vintages
This rare Palo Cortado comes from four butts of a solera that Maestro Sierra estimates to be more than 70 years old. Although there is a slight sweetness to it, the flavors are framed in sea salt, stony notes, iodine and spices. It has the character of the greatest dry Sherries, but that sweet note gives it a touch of distinction—and makes it more approachable as well.
View More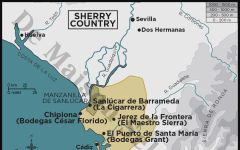 A winery founded in 1832 by Jose Antonio Sierra, who was a master carpenter. As a master carpenter he was responsible for building barrels for all the major Sherry houses. Recognized as one of the top coopers in the area, he longed to become involved in the Sherry trade itself. In 1832 he set about building a small winery with the aim of making the best Sherries possible. As this business was dominated by the nobility, a start-up such as his was not very welcome. After many hardships he was able to establish and grow his business becoming one of the top Almacenistas (stockholders) of high quality Sherries. Poking fun at his struggle, the label depicts an allegorical fox hunt with the "Nobles" hunting the fox (Maestro Sierra).
Pilar Pla Pechovierto currently owns Maestro Sierra. She is assisted by Ana Cabestrero and Juan Clavijo who is the Capataz (more below on the job description of a Capataz). Doña Pilar is a widow whose husband was a direct descendent of the Sierra family. She respected her husband's wish that the winery remain in operation and over the last thirty years she has kept the winery open, selling very limited stocks of wine to a few of the large Sherry houses. Because the wines have virtually remained unmoved due to the almost non existent business, the stocks at Maestro Sierra are some of the oldest in Jerez
The other important aspect of the winery is that since the wines have seen little sales the stocks have remained virtually untouched for the last thirty years. The soleras at the winery are easily over 60 years old and some might be close to 100 years old. The larger houses have pillaged their old soleras, leaving them with little old wine. Unfortunately the legistation only allows for wines to be labeled as old as 30 years old (VORS). They also maintain an inhouse cooper to uphold the tradition of their heritage. By anyone's standard the crown jewel of Sherry is Maestro Sierra.
Known more formally as Jerez de la Frontera, Jerez is a city in Andalucía in southwest Spain and the center of the Jerez region and sherry production. Sherry is a mere English corruption of the term Jerez, while in French, Jerez is written, Xérès. Manzanilla is the freshest style of sherry, naturally derived from the seaside town of Sanlúcar de Barrameda.
Sherry is a fortified wine that comes in many styles from dry to sweet. True Sherry can only be made in Andalucía, Spain where the soil and unique seasonal changes give a particular character to its wines. The process of production—not really the grape—determine the type, though certain types are reserved for certain grapes. Palomino is responsible for most dry styles; Pedro Ximénez and Muscat of Alexandria are used for blending or for sweet styles.